Magi: The Labyrinth of Magic Volume 13 manga review
By Leroy Douresseaux
August 8, 2015 - 22:04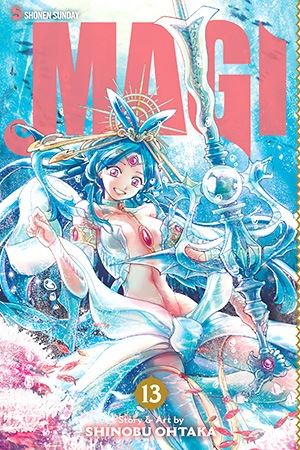 Magi Volume 13 cover image
Rated "T" for "Teen"
The world of
Magi
is set in an alternate version and recreation of the ancient Old World (similar to ancient Persia). About 14 years before the story begins, several magic castles (of various architectural styles) begin to appear in this world. Full of treasures and traps, these mysterious ruins are known as "
Dungeons
."
Aladdin
, a
Magi
, and his friend,
King Alibaba Saluja
, embark on a dangerous and deadly adventure into those Dungeons to find fortune and glory and more adventure.
As
Magi

, Vol. 13
(Chapters 119 to 128) begins,
Hakuryu Ren
, fourth prince of the
Kou Empire
, explains to
Morgiana
how the empire came under the influence of the sinister and shadowy organization,
Al-Thamen
. Then, Morgiana shares the story of her family's destruction at the hands of "slave hunters." Meanwhile,
Sinbad
, king of Sindria, and
Kogyoku
, a princess, go through full-body Djinn equip for a showdown.
Aladdin, Alibaba, Morgiana, and Hakuryu finally board a ship together to leave Sindria, but they must eventually part ways to go on their own quests. Before that, they group has a big adventure when they take on the "
Holy Mother Pirates
" and
Amu Madaura
.
THE LOWDOWN:
It has done it again. The
Magi
manga (subtitled The Labyrinth of Magic) surprised me. As a regular reader of
Magi
, I had settled into the idea of Aladdin and company living in Sindria. The journeys continue, and Sindria must be left behind, which also means separation.
Magi Volume 13
exemplifies the imagination and inventiveness of series creator
Shinobu Ohtaka
. Regardless of the pairing of heroes, Ohtaka can create a lively story arc full of adventure and wonder.
Magi
seems to be a world of possibilities, and Ohtaka seems up to the challenge, finding something amazing around every corner of his creation.
POSSIBLE AUDIENCE:
Readers, especially young manga readers, looking for adventure stories will want to read the "Shonen Sunday" title,
Magi
.
Rating: A- /10
Last Updated: August 31, 2023 - 08:12