Magi: The Labyrinth of Magic Volume 12 manga review
By Leroy Douresseaux
June 9, 2015 - 21:37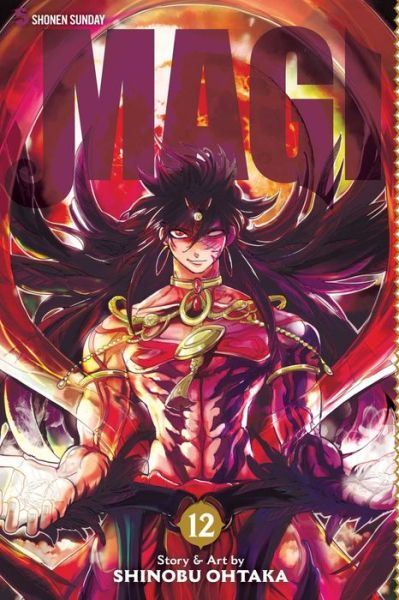 Magi Volume 12 cover image is courtesy of barnesandnoble.com.
Rated "T" for "Teen"
Magi
is set in an alternate version and recreation of the ancient Old World (similar to ancient Persia). About 14 years before the story begins, several magic castles (of various architectural styles) begin to appear in this world. Full of treasures and traps, these mysterious ruins are known as "
Dungeons
."
Aladdin
, a
Magi
, and his friend,
King Alibaba Saluja
, embark on a dangerous and deadly adventure into those Dungeons to find fortune and glory and more adventure.
As
Magi

, Vol. 12
(Chapters 109 to 118) begins,
Yamraiha
fights a bitter, but powerful old man who has a grudge against the sinister and shadowy organization,
Al-Thamen
. Judar, an member of that organization, visits
King Sinbad
in
Sindria
to declare that he will destroy the kingdom unless...
Meanwhile, Aladdin learns more about the Magi. Old and powerful, there are usually only three in the world, so why is there now a fourth, Aladdin? Sinbad continues to gather allies, while a curse threatens the peace of Sindria and the health of his allies.
THE LOWDOWN:
The
Magi
manga (subtitled
The Labyrinth of Magic
) continues to surprise me. Sometimes, a particular volume is a powerful good read, with creator
Shinobu Ohtaka
revealing the dramatic chops to go along with his imagination and inventiveness.
Magi Volume 12
is a powerful good read. I lost track of how many threads and subplots that played out in this volume. I practically tore through Vol. 12 because it was simply a joy to read. I think that this series will continue to surprise and maybe even to improve. Vol. 12 certainly promises some good future volumes, and I hope that actually happens.
POSSIBLE AUDIENCE:
Readers, especially young manga readers, looking for adventure stories will want to be a
Magi
.
Rating: A+ /10
Last Updated: August 31, 2023 - 08:12