Magi: The Labyrinth of Magic Volume 7 manga review
By Leroy Douresseaux
August 16, 2014 - 11:26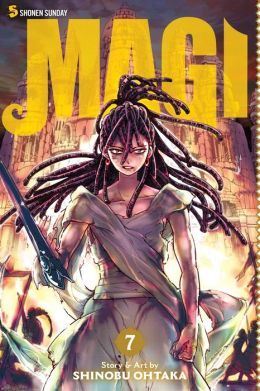 Magi Volume 7 cover image is courtesy of barnesandnoble.com.
Follow me on
Twitter
.
Rated "T" for "Teen"
Set in an alternate version and recreation of the ancient Old World (perhaps, ancient Persia),
Magi
(subtitled The Labyrinth of Magic) is a shonen manga. About 14 years before Magi's story begins, several magic castles (of various architectural styles) begin to appear. Full of treasures and traps, these mysterious ruins are known as "
Dungeons
."
Aladdin
and his friend,
Alibaba Saluja
, embark on a dangerous and deadly adventure into a Dungeon to find fortune and glory.
As
Magi

, Vol. 7
(Chapters 59 to 68) begins, Alibaba decides that it is time to confront the forces arrayed against
Balbadd
, where he is the third prince in line for the throne. First, he uses the sword called
Amon
to fight monstrous creatures that originated in Dungeons. It's
Morgiana
, the 14-year-old warrior, who decides that she will take on Alibaba's fight while he takes on his biggest battle – his brother, the corrupt
King Ahbmad
.
His confrontation with Ahbmad and his second brother,
Sahbmad
, will lead to a shocking turn and series of events. Meanwhile, Aladdin is in a coma, destined for the "
Sacred Place
."
THE LOWDOWN:
It is not a lie, and I say it often. The
Magi
manga gets better with each volume. Honestly, after reading the first volume, I did not think that this series would be so expansive in terms of narrative scope. Yet with each volume, the world of
Magi
expands.
With
Magi Volume 7
, creator
Shinobu Ohtaka
offers violent confrontations and political upheaval, leading to new places and ideas. That only makes me more interested in the world of
Magi
, and I imagine that many regular readers of this series will find themselves more drawn to
Magi
. This is a hugely enjoyable old-fashioned Persian adventure.
POSSIBLE AUDIENCE:
Readers, especially young manga readers, looking for treasure-hunting adventure will want to try
Magi
.
Rating: A- /10
Last Updated: August 31, 2023 - 08:12