Magi: The Magic of the Labyrinth Volume 6
By Leroy Douresseaux
June 14, 2014 - 17:33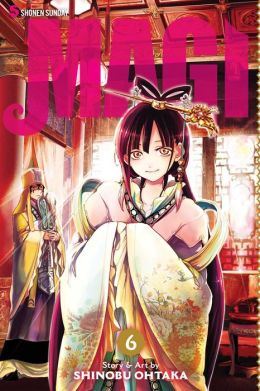 Magi Volume 6 cover image is courtesy of barnesandnoble.com.
Follow me on Twitter.
Rated "T" for "Teen"
Magi (subtitled The Labyrinth of Magic) is a manga that is set in an alternate version and recreation of the ancient Old World (perhaps, ancient Persia). About 14 years before Magi's story begins, several magic castles (of various architectural styles) begin to appear. Full of treasures and traps, these mysterious ruins are known as "Dungeons." Two new friends, Aladdin and Alibaba Saluja, are about to embark on a dangerous and deadly adventure into a Dungeon to find fortune and glory.
Aladdin's friend, "Sin," turns out to be Sinbad, King of Sindria. Sinbad is ready to confront Ahbmad, King of Balbadd over the condition of the people of Balbadd, but powerful forces stand behind the King.
As Magi, Vol. 6 (Chapters 49 to 58) begins, Aladdin takes on one of those powerful forces, the magi known as Judar. Aladdin and his djinn are kicking Judar around when Ren Kogyoku, a princess of the Kou Empire arrives. What does she have to do with the battle and the larger struggle of Balbadd? For that matter, how is the Kou Empire involved? Perhaps, only Aladdin's friend, Alibaba, can answer those questions.
THE LOWDOWN: The Magi manga gets better with each volume. Until I read a particular volume, I forget how much I actually enjoy the series, although I do not belong to any of the series' target demographics: late pre-teen (or 'tween) and early teen readers, especially boys.
With Magi Volume 6, creator Shinobu Ohtaka takes all the subplots and conspiracies and directs them into a conspiracy around Balbadd. Then, Ohtaka takes the lead characters and primary supporting characters and reveals how their goals, desires, and fears will play a role in this central conflict. Suddenly, this old-fashioned Persian adventure is a character drama, and we get a surprisingly good read out of it.
POSSIBLE AUDIENCE: Readers, especially young manga readers, looking for treasure-hunting adventure will want to try Magi.
Rating: A- /10
Last Updated: August 31, 2023 - 08:12