Magi: The Labyrinth of Magic Volume 3 manga review
By Leroy Douresseaux
December 12, 2013 - 16:32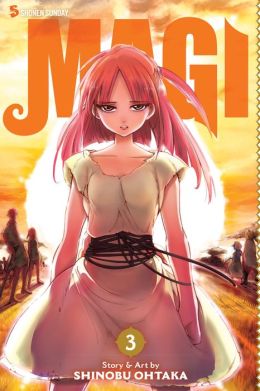 Magi: The Labyrinth of Magic Volume 3 cover image is courtesy of barnesandnoble.com.
Rated "T" for "Teen"
The manga, Magi (subtitled The Labyrinth of Magic), is set in an alternate recreation of the ancient Old World (perhaps, ancient Persia). About 14 years before the story starts, several magic castles (of various architectural styles) begin to appear. Full of treasures and traps, these mysterious ruins are known as "Dungeons." Two new friends, Aladdin and Alibaba Saluja, are about to embark on a dangerous and deadly adventure into a Dungeon to find fortune and glory.
As Magi, Vol. 3 (Chapters 18 to 27) begins, Aladdin awakens far from Qishan. He finds himself taken in by the Kouga Clan, an apparently semi-nomadic tribe of horseman. The village elder, Baba, calls him "the Rukh boy." The Kouga take Aladdin in as one of their own, but the tribe is not without trouble.
The Kou Empire wants to absorb the Kouga. Hakuei Ren, the third child of the First Emperor of the Kou Empire, wishes to uses diplomacy with the Kouga. Her subordinate, General Ryosai, has other plans.
THE LOWDOWN: I did not find the first volume of the Magi manga to be an exceptional reading experience, although it introduced a number of ideas and concepts that I found interesting. Magi Volume 3 is something else entirely. I enjoyed reading it, and read most of the volume in one sitting.
I find it to be unusual – part Persian adventure and part children's comic book. It makes me think of an animated or anime series for children that borrows from and re-imagines Arabian Night and Dungeons and Dragons. If there is one glaring weakness in Magi, it is that creator Shinobu Ohtaka offers characters that are shallow to varying degrees. Still, I like reading Magi.
POSSIBLE AUDIENCE: Readers looking for treasure-hunting adventure will want to try Magi.
Rating: B+ /10
Last Updated: August 31, 2023 - 08:12