Magi: The Magic of the Labyrinth Volume 1 manga review
By Leroy Douresseaux
August 11, 2013 - 17:28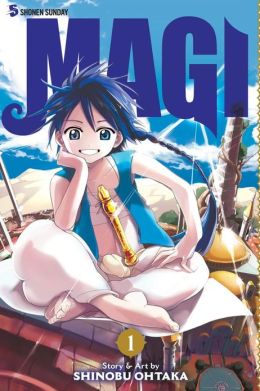 Magi Volume 1 cover image is courtesy of barnesandnoble.com.
Rated "T" for "Teen"
Magi is a manga set in an alternate recreation of the ancient Old World (perhaps, ancient Persia). About 14 years before the story begins, several magic castles (of various architectural styles) began to appear. Full of treasures and traps, these mysterious ruins are known as "Dungeons." Two new friends are about to embark on a dangerous and deadly adventure into a Dungeon to find fortune and glory.
Magi, Vol. 1 (Chapters 1 to 7) introduces Aladdin, a scruffy young boy, who travels the world. In his possession is a metal flute, and when he blows on it, out pops a headless, muscular, behemoth named Ugo; he's a djinn. Aladdin meets Alibaba Saluja, a young man who seeks his destiny in a dungeon. Together, Aladdin and Alibaba enter Dungeon No. 7: Amon, which is inside the Oasis of Qishan. Jamil, who is Lord of the Oasis of Qishan, is also interested in that same Dungeon.
THE LOWDOWN: The early chapters of the Magi manga were not particularly interesting to me. Once Aladdin meets Alibaba, the story picks up its pace and also gains a purpose – the Dungeon quest. When the main characters reveal their goals and obstacles, the story starts to get interesting. Magi Volume 1 also gives a glimpse the adversaries to come for Aladdin and Alibaba.
The style of the art by Magi creator Shinobu Ohtaka is similar to the art of Yuuki Iinuma, creator of the Itsuwaribito manga. That's where the comparisons end, as Magi lacks the edginess of Itsuwaribito. The rating for Magi is "T for Teen," but the tone of the story will make it more attractive to middle school and 'tween readers and not so much older teen readers. Magi is a straight-forward, fun to read adventure, part Prince of Persia and part Raiders of the Lost Ark.
POSSIBLE AUDIENCE: Readers looking for treasure-hunting adventure will want to try Magi.
Rating: B /10
Last Updated: January 24, 2022 - 11:00