Comics / Manga / Yaoi Manga
Love Stage!! Volume 2 yaoi manga review
By Leroy Douresseaux
September 20, 2015 - 21:56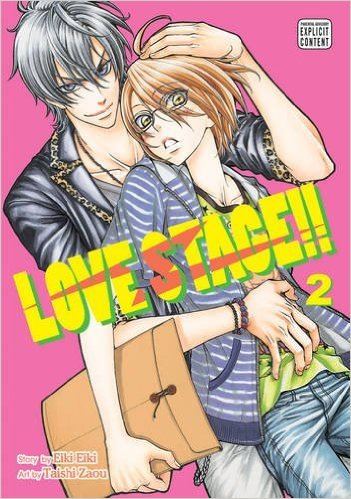 Love Stage Volume 2 cover image
Rated "M" for "Mature"
SuBLime Manga is publishing,
Love Stage!!
, a boys' love manga, in graphic novel form. Boys' love (or BL) manga depicts amorous situations between male romantic leads. Written by
Eiki Eiki
and drawn by
Taishi Zaou
,
Love Stage!!
focuses on
Izumi Sena
, an average, but cute guy from a family of celebrities. He becomes romantically entangled with
Ryoma Ichijo
, one of Japan's most popular young male celebrities.
When
Love Stage!!

, Vol. 2
(Chapter 6 to 10) opens, Izumi runs into Ryoma, although he had been avoiding the popular young star ever since their misguided moments of foreplay play. And they keep running into each other. Ryoma is finding it harder and harder to deny himself; he totally has the hots for him, but this is also true love...
Meanwhile, Izumi, an unrepentant otaku (fanboy), wants to be a mangaka (a creator of manga). He has no time for romance, and he certainly does not want to love another guy. Izumi is focusing all his efforts on being a published manga creator.
Rei Sagara
, who manages the Sena family's celebrity endeavors, wants to make Izumi an idol. Sagara makes a deal with Izumi regarding his future, and when things go bad, Izumi runs not to Sagara, but into the arms of Ryoma?!
[This volume includes two bonus chapters.]
THE LOWDOWN:
The
Love Stage!!
manga is a delightful romantic comedy. Its sense of humor is thoroughly well-developed, which helps sell the romance. When comedy is working, love has such an easier time blooming.
Love Stage!! Volume 2
reveals Ryoma to be a true romantic. Yeah, he wants to do some X-rated things to Izumi, which he does; believe me when I say that
Love Stage!!
earns its "Mature" rating. Still, readers buy the notion that what Ryoma wants is real love. Ryoma's feelings and Izumi's oblivious uke routine create a push-pull rhythm that helps to keep the narrative tight; there is virtually no extraneous or filler material here. Real funny, really sexy, and true love: this is a excellent series.
POSSIBLE AUDIENCE:
Fans of boys' love manga will want to experience the
Love Stage!!
Rating: A /10
Last Updated: January 24, 2022 - 11:00