Comics / Manga / Yaoi Manga
Love Stage!! Volume 1 yaoi manga review

By Leroy Douresseaux
July 22, 2015 - 19:55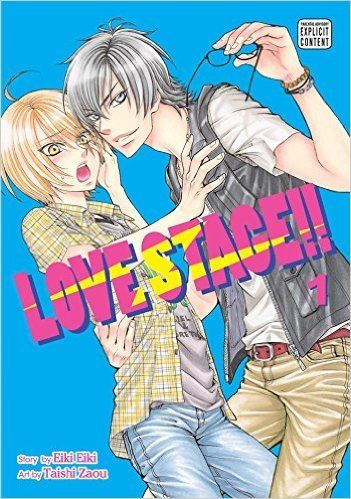 Love Stage!! Volume 1 cover image
Rated "M" for "Mature"
Love Stage!!
is a boys' love (BL) manga that SuBLime Manga began publishing in graphic novel form back in May. Boys' love manga depicts amorous situations between male romantic leads. Written by
Eiki Eiki
and drawn by
Taishi Zaou
,
Love Stage!!
is about an average guy from a family of celebrities who becomes romantically entangled with one of Japan's most popular young male celebrities.
Love Stage!!

, Vol. 1
(Chapter 1 to 5) opens in the past. A small boy is dressed as a girl for a commercial shoot. His costar believes that the girl is really a girl, and he never forgets her... him. Ten years later, the boy who dressed like a girl is
Izumi Sena
, now a beginning college student. He is an unrepentant otaku (fanboy) and wants to be a mangaka (a creator of manga). The rest of his family is in show business, and they want Izumi to join the family business.
Meanwhile, Izumi's costar in that long-ago commercial is
Ryoma Ichijo
, a hot young actor and idol. The commercial in which he starred 10 years ago is going to get an anniversary sequel, but Ryoma will not return unless that "girl" from the original reprises her role. What will he do when he finds out that she is really a he?
THE LOWDOWN:
While the
Love Stage!!
manga is a romantic comedy, the early chapters are more comedy than romance.
Love Stage!! Volume 1
is not just funny; it's delightfully funny. In fact, it is so comedy oriented that when some... heaving petting suddenly occurs, the change in tone is quite jarring.
Writer Eiki Eiki is a master of BL and similar genres, as well as shojo manga. Artist Taishi Zaou has a beautiful drawing style that is perfect for shojo manga and makes her boys' love manga exceptionally pretty. Together, they create something unique, manga that transcends genre. That is
Love Stage!!
, cute and funny and popping with energy and I think the best is yet to come.
POSSIBLE AUDIENCE:
Fans of boys' love manga will want Eiki Eiki and Taishi Zaou's
Love Stage!!
Last Updated: January 24, 2022 - 11:00