Comics / Manga / Yaoi Manga
Lover's Pledge (Yaoi)
By Leroy Douresseaux
Nov 14, 2008 - 15:44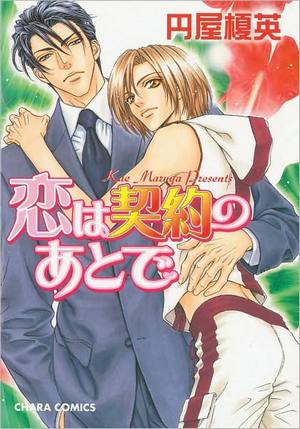 June Manga's edition will keep the above cover illustration of the Japanese original, but replace the cover copy.
Rated "M" for "Mature Audiences 18+"
In the yaoi manga, Lover's Pledge, from creator Kae Maruya, the bonds of deep friendship are put to the test by the yearnings of unrequited love. Young men must face the truth: they've fallen in love with other men and those men might want to return that love.
First, in "Lover's Pledge" and "Happily Ever After," party boy Kazuto Haruna wakes up after a night of drinking to find a stranger curled up in bed next to him. It seems rich, young businessman, Akihiko Takasugi has purchased Kazuto's… services for the next month. Still, Kazuto finds his heart racing whenever he thinks of Akihiko, but when a genuine friendship between the two blossoms, Kazuto still wonders if their union is pleasure or just business.
When he was a boy, Yuasa Mutsuki comforted the latchkey kid next door, Gaku Togo. Now, Gaku is a big, strapping, blond boy who has all the girls chasing after him. In "Prescription for a Kiss," Yuasa must confront the troubling feelings in himself for Gaku, but is Yuasa too clueless to pick up on Gaku's feelings for him?
When he was orphaned as a child, Fumiya Sugino moved in with his cousin Eiji and his family. Eiji, a year older, protects Fumiya, and keeps his younger cousin from becoming a crybaby. Now, Fumiya is 16-years-old and 17-year-old Eiji keeps treating Fumiya as if he were still the little kid he once protected. So when Eiji decides to help Fumiya learn how to handle a girlfriend by teaching him how to kiss, the sparks really fly in "Too Close for Love."
Lover's Pledge is an absolute blast to read. It is passionately romantic, full of hot and heavy love without necessarily having to rely on hot and heavy lovemaking (although there is some of that). Kae Maruya has created a trio of couples who are well worthy of readers' attentions; you never want these love stories to end because you want more of the characters. Maruya's criminally beautiful figure drawings (stunning depictions of faces and gorgeous wavy hair) make Lover's Pledge a winning boys' love title. Her characters "wear" their clothes so well that this manga could pass for a fashion catalog.
A
Last Updated: Jun 26, 2018 - 9:28