Comics / Manga / Yaoi Manga
Takashi Kanzaki's Love + Alpha (Yaoi)
By Leroy Douresseaux
Oct 31, 2008 - 12:31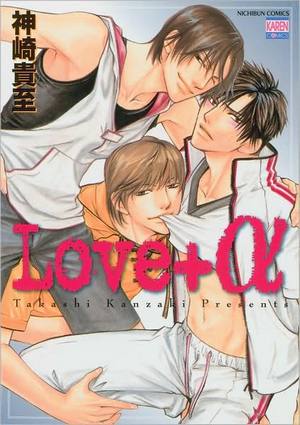 The cover for 801 Media's edition is only slightly different from the Japanese original (above), but the cover illustration remains.
"18+ Mature Content"
Yuuya Higashiyama is caught in a rather strange and uncomfortable love triangle. His friend, 17-year- old Kyosuke Totsugi, died in an accident while waiting for Yuuya. Now, the ghost of Kyosuke is trapped at the spot where he died, and there the ghost remains, pining away for Yuuya. Meanwhile, Yuuya's childhood friend, Katsuki Miyanaga, a spiritual medium, also has a crush on Yuuya. Katsuki and Kyosuke are jealous of each other's love for Yuuya, and Yuuya is caught in a tempestuous love triangle. Who will lose in this fantastic three-way love affair?
Love + Alpha (stylized as Love +ɑ or Love + Alphɑ) is a yaoi manga – boys' love manga with sex – from creator Takashi Kanzaki. It starts off with a dud, and at one point, Love + Alpha was looking like it was well on its way to becoming my worse yaoi reading experience. Then, Kyosuke the ghost jumps into Yuuya's body, takes possession of his hands, and forces Yuuya to pleasure himself… in interesting ways. It's the blend of nasty, raunchy, and erotic that makes Love + Alpha interesting prurient entertainment. Kanzaki's figure drawing is good, not great, and sometimes works against the narrative by not clearly communicating action – especially in some scenes of intimacy. On the whole, however, Love + Alpha is an entertaining creepy love story, well worth the time of yaoi readers who like weird plots and situations.
B
Last Updated: Jun 26, 2018 - 9:28