Comics / Manga / Yaoi Manga
Lemon Ichijo's Love Knot (Yaoi)
By Leroy Douresseaux
April 22, 2010 - 13:09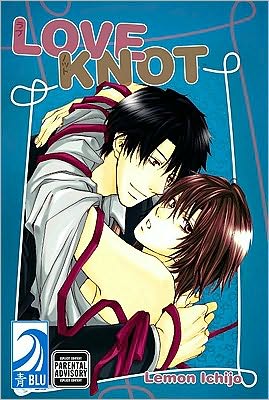 Love Knot cover image is courtesy of barnesandnoble.com.
Rated "M" for "Mature"
Love Knot is a collection of yaoi manga short stories. Yaoi is a subset of boys' love manga, and while boys' love depicts romantic relationships between men, yaoi also features explicit depictions of sex between men. That's an important distinction concerning Love Knot because it is particularly graphic in its depictions of sex.
The title story, "Love Knot," and its coda, "Re:Start," focuses on the reunion of two former junior high school pals. Back in junior high, Kazuki Nozawa told tough guy Tomoya that he loved him, but Tomoya refused Kazuki because he said that Kazuki was too short. Two years later, Tomoya finds Kazuki on his doorstep, but the former short guy is a tall and strapping dude. Now, Tomoya has to be honest with himself about his real feelings for Kazuki.
There's not much drama in this story arc. For a page or so, it does seem as if Kazuki will have to struggle to capture Tomoya's heart. Creator Lemon Ichijo, however, quickly dispatches with any obstacles in the way of that relationship, and "Re:Start" opens with a lovemaking session that quickly becomes a portfolio of a graphic depictions of gay sex.
The three-story arc, "Loveliness," "In Your Arms Again," and "That's the You I Love," involve a small circle of friends struggling with love, committed relationships, and communication. The central characters of this triptych are twin brothers Yu Otsuka, a successful artist and college art instructor, and his Kaede Otsuka, the promiscuous cad who sometimes steals Yu's identity.
Not only are these stories a delight to read, but the characters should, at the very least, have their own graphic novel. Their conflicts seem real, and the threat that these relationships might fall apart is genuine. And the penis, in various states of tumescence, makes quite a few appearances.
"captive" is about a school infirmary nurse and a nurse's assistant who is also a student. The story balances its edgy school employee-student sexual relationship with a well-developed subplot about bullying. "Blindly Love" is a playful bit about a chef and a waiter, and has enough catty scenes to make it a good read. In fact, "good read," is the best way to describe Love Knot. It isn't as amorous as the best romantic boys' love, but the sex and the playfulness make it a yaoi collection worth having.
B+
Last Updated: August 31, 2023 - 08:12