Comics / Manga / Yaoi Manga
Love is Like a Hurricane: Volume 4 (Yaoi Manga)
By Leroy Douresseaux
Apr 25, 2008 - 12:25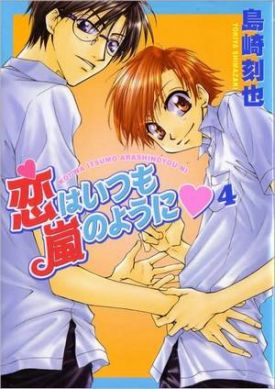 801's edition of this volume will retain the image from the original Japanese edition, but drop the captions.
801 Media's brand of manga looks like shounen (boys' comics), but the publisher's line of books is yaoi manga (a subset of boys' love manga that features explicit love scenes between young men). Case in point is
Love is Like a Hurricane
, a yaoi series which follows the often combative relationship between two boy-boy couples:
Mizuki & Azuma
and
Izumi & Akira
.
In Love is Like a Hurricane, Vol. 4, it's school festival time, and his classmates want Mizuki dress in a maid's uniform. If that's not bad enough, twin brother/sister combo, Hiraku and Miyabi Nikaidou, who were old middle school classmates of Azuma's, have returned and they want Azuma for themselves. Mizuki is burning up with jealousy, but is he misreading Azuma's feelings?
THE LOWDOWN: As a high school comedy, Love is Like a Hurricane is silly and inconsequential – nothing special; it's one subplot after another about teen love and misunderstanding. As a yaoi title, it's a festival of grab-ass, with practically every chapter punctuated with an exuberant scene of furtive sex between young male lovers. Such potency and virility is something worth celebrating.
POSSIBLE AUDIENCE: If you like lots of sex scenes in your yaoi, this is your title.
B
Last Updated: Jun 26, 2018 - 9:28