Comics / Manga / Yaoi Manga
Love is Like a Hurricane 5
By Leroy Douresseaux
Oct 15, 2008 - 9:36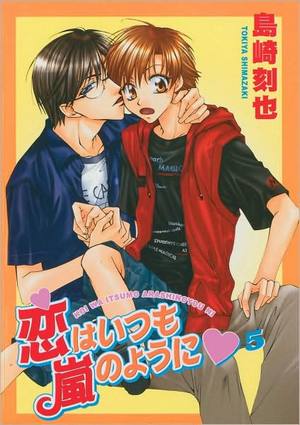 801 Media's edition keeps the cover illustration of the Japanese original, but replaces the Japanese cover copy.
"18+ Mature Content"
In Love is Like a Hurricane, Vol. 5, the final volume of the series, the romance between Mizuki and Azuma takes center stage. The tall Azuma can't keep his hands off his smaller, girlish toy boy, Mizuki, and between gasps of pleasure, Mizuki wonders why he can't keep his boyfriend off him. However, when seme (top) Azuma learns that his uke (bottom) Mizuki may be the target of other teen lovers, Azuma decides to make sure people recognize his brand on his property.
Maybe Love is Like a Hurricane ran one volume too long. While I've only read Vols. 4 and 5, I can recognize a big difference between the two. Four was a randy, comic romp filled with as many school boy pranks and good-natured ribbing as it was with sex scenes, while Vol. 5 telegraphs its ending. Obviously, there was going to be a happy ending, but the 160 pages before the end could have been a bit livelier. The art, which was pretty good in previous volumes, is even better, and fans of the series will still want to get this final volume.
B-
Last Updated: Jun 26, 2018 - 9:28