Love*Com: Volume 17
By Leroy Douresseaux
February 27, 2010 - 12:09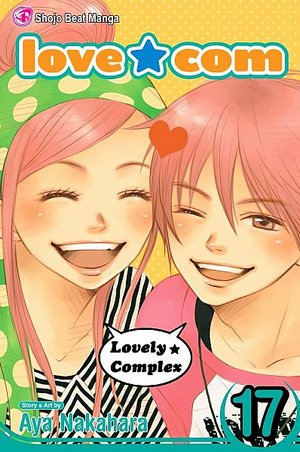 Love*Com Volume 17 cover image
Rated "T" for "Teen"
Risa Koizumi is the tallest girl in her class. Atsushi Ôtani is the shortest boy in his class. The last thing Risa wanted was the humiliation of standing next to a boy shorter than her, but fate and her classmates brought the two together. Love*Com is their story.
Love*Com ended with Vol. 16. Love*Com, Vol. 17 is a collection of four bonus stories. In the first story, readers get to see Atsushi Ôtani in the seventh grade as he tries to make the basketball team. Next, readers meet eighth grade Risa, who is experiencing the feelings of romantic love for the first time, but it may cost her a friend. In the third story, we see Risa and Ôtani meet for the first time, as fate brings them together at a concert by their favorite musical act, Umibôzu.
The final bonus story takes place a year after high school graduation. The gang is back together, but to Risa, all her high school pals seems different, including Ôtani. He seems to have a new life at college, and that's bothering. The volume ends with the manga short, "Making of the Love*Com Anime."
THE LOWDOWN: Readers who feel the need to have a complete collection of Love*Com will want this 17th volume. It is a nice read because creator Aya Nakahara takes the reader into the lead characters' pasts for some backstory set before the main narrative. And the one-year-later story is also fun to read, if for no other reason than the curiosity of where-are-they-now. The truth is that the contents of this volume are just odds-and-ends that, however nice they may be, are not up to the quality of the main narrative.
POSSIBLE AUDIENCE: Fans of high school shojo romance should put Love*Com on their must-buy list.
B
Last Updated: August 31, 2023 - 08:12