Love*Com: Volume 15
By Leroy Douresseaux
October 28, 2009 - 13:24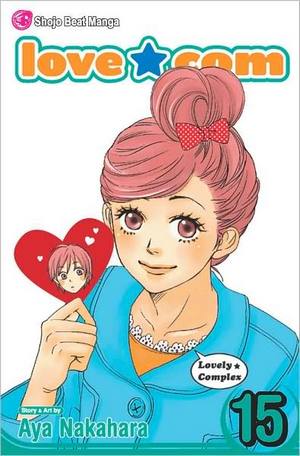 Love*Com Volume 15 cover image is courtesy of barnesandnoble.com.
Rated "T" for "Teen"
Risa Koizumi is the tallest girl in her class. Atsushi Ôtani is the shortest boy in his class. The last thing Risa wanted was the humiliation of standing next to a boy shorter than her, but fate and her classmates brought the duo together.
As Love*Com, Vol. 15 opens, Risa's current project is to help a cross-dressing boy named Seishiro Kotobuki get herself ready to declare her romantic feelings to another boy. Next, popular teacher, Mr. Kuniumi Maitake AKA Mighty, is marrying his girlfriend, Jody, and he has invited a select group of his students on an all-expenses paid trip to the tropical island where the wedding will take place. However, what should be a great time gradually turns into bickering and (almost) breakups
THE LOWDOWN: If Love*Com (Lovely Complex) were a Hollywood romantic comedy, it might become a hit. Everything about this high school shojo romance works well. The art is drawn with such skill and beauty that it is sublime, but the star attraction of this series is its romantic duo. Risa and Ôtani should not really be together, because so much about each clashes with the other. Every time I turn the page I expect to witness the scene in which they break up. It is this doomed love/destined-to-be-together dynamic that would make a good movie, but already makes for a winning shojo manga.
POSSIBLE AUDIENCE: Fans of high school shojo romance should put Love*Com on their must-buy list.
A
Last Updated: August 31, 2023 - 08:12