Love*Com: Volume 13
By Leroy Douresseaux
July 3, 2009 - 12:20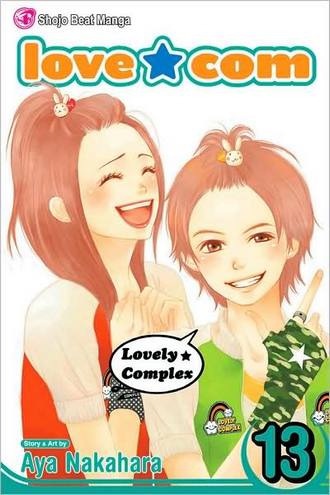 Love*Com Volume 13 cover image is courtesy of barnesandnoble.com.
Rated "T" for "Teen"
Risa Koizumi, the tallest girl in her class, found herself falling in love with Atsushi Ôtani, the shortest boy in class. It wasn't supposed to be this way! Now, they're a squabbling odd couple. She's clingy, and he's crabby.
Love*Com, Vol. 13 begins with other people's problems, because two friends are in trouble. Chiharu Tanaka passed her college entrance exams; her boyfriend, Ryōji Suzuki, has not. Not only are they looking at parting when they once thought they'd be going to college together, but Yowao Hosokawa, a student who did get into Chiharu's college, wants Ryōji to step aside so that he can date her. It's Ôtani to the rescue, but did he just make things worse?
Next, Risa and Ôtani face static from the Koizumi family. First, Risa's bratty younger brother, Takato, insists that the couple break up because Ôtani is too good for his sister! Next, Risa's Grandpa comes for an extended visit, and he despises Ôtani upon first sight. How far is he willing to go to break apart the young couple?
THE LOWDOWN: I continue to love Love*Com (Lovely Complex) because of the absolutely, super-duper beautiful faces creator Aya Nakahara draws on just about every one of her characters. Her drawing prowess, whether it is for figures, faces, or backgrounds, is first-rate. This is eye candy galore, but sometimes the story is equally tasty. All four chapters of Vol. 13 fall into that category because of the exciting conflicts between characters. Suspicious minds, a devious grandparent, a scheming tramp, a judo match, and sneaky friends: it's a boiling pot that's spilling over into the next volume.
POSSIBLE AUDIENCE: Fans of high school shojo romance should put Love*Com on their must-buy list.
A-
Last Updated: August 31, 2023 - 08:12