Love*Com: Volume 11
By Leroy Douresseaux
May 6, 2009 - 10:24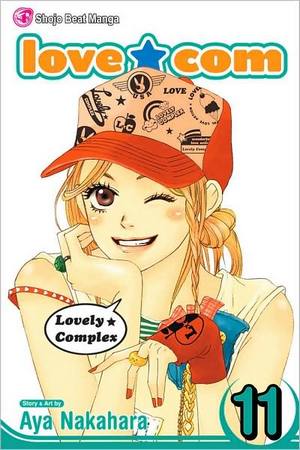 Love*Com Volume 11 cover image is courtesy of barnesandnoble.com.
Rated "T" for "Teen"
Risa Koizumi is the tallest girl in class. Atushi Ôtani is the shortest boy in class. Risa originally didn't want to have anything to do with Ôtani. Then, she developed a hard crush on Ôtani, but he played hard to get until she got him. Now, they're a squabbling odd couple.
As Love*Com, Vol. 11 opens, Risa and her friends are making plans for the New Year's Day celebrations. Because her relationship with Ôtani is on the upswing, Risa's life is looking good, but can she be happy when her best friend Nobu Ishihara is miserable? Nobu's grandmother is moving back to her hometown of Hokkaido for health reasons, and Nobu is moving with her. What does that mean for Nobu's relationship with her boyfriend, Nakao? Meanwhile, Ôtani hits a major obstacle the night before his big college entrance exams!
THE LOWDOWN: There are some beautiful composition and excellent figure drawing going on in the art of Aya Nakahara, creator of Love*Com. It's serious eye candy, but the art won't distract from a very entertaining romantic comedy. For a romantic comedy to stand out and, most important in the case of serial fiction, to get readers to keep coming back, it needs a winning romantic couple, which Love*Com certainly has in Risa and Ôtani. They're a strange pair – not because the girl is taller than the guy, but because they fight so much. That makes from good drama and comedy.
POSSIBLE AUDIENCE: Fans of high school shojo romance should put Love*Com on their must-buy list.
B+
Last Updated: August 31, 2023 - 08:12