Love*Com: Volume 10
By Leroy Douresseaux
January 2, 2009 - 14:24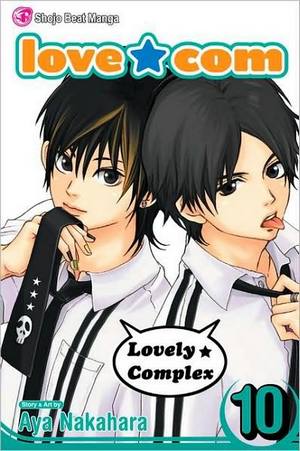 Love*Com 10 cover image is courtesy of barnesandnoble.com.
Rated "T" for "Teen"
Risa Koizumi is the tallest girl in class. Atushi Ôtani is the shortest boy in class. Risa had a hard crush on Ôtani, but he played hard to get until she got him. Now, they fuss and fight and love as dating teens will do.
Love*Com, Vol. 10 finds Risa working as a waitress at Café Ikebe, so that she can be close to Ôtani's cram school. The rigors of trying to prepare for college entrance exams have turned Ôtani into a horrible grouch, who is no longer available for anything that is fun and isn't cramming. Meanwhile, one of Risa's co-workers, Kohiro, a shrimp of a fellow like Ôtani, wants to get close to Risa. When circumstances conspire to make Risa and Kohiro seem more than work buddies, the super-stressed Ôtani may have to face an obstacle worse than an entrance exam… or is it?
THE LOWDOWN: The two most recent volumes of Love*Com collect what is to this point the most exciting chapters of the shoujo manga (comics for teen girls). There is so much conflict, the life blood drama, and, in the case of Risa and Ôtani, conflict fits them as well as romance does. This volume is such a joy to read that I couldn't stop until I finished – something that usually only happens to me with shounen titles (like Bleach or Naruto). Manga-ka Aya Nakahara and her staff produce some of the most beautiful shoujo art around. The gorgeous faces on the characters, the excellent figure drawing – even deformed, and the hot fashions and cool clothes they wear added to an improving story make Love*Com the teen love story to read.
POSSIBLE AUDIENCE: Fans of high school shoujo romance should put Love*Com on their must-buy list.
A-
Last Updated: January 24, 2022 - 11:00