Love*Com: Volume 9
By Leroy Douresseaux
December 29, 2008 - 10:00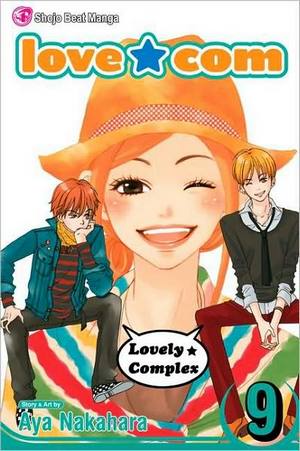 Love*Com 9 cover is courtesy of barnesandnoble.com.
Rated "T" for "Teen"
Risa Koizumi is the tallest girl in class. Atushi Ôtani is the shortest boy in class. Risa had a hard crush on Atushi, but he played hard to get until she got him. Now, they fuss and fight and love as dating teens will do.
In Love*Com, Vol. 9, the star (or star-crossed) couple faces obstacles as Risa and Atushi's senior year draws to a close. First, Risa is in a tizzy because Atushi keeps calling her things like "stupid" and "idiot," but isn't his belligerence what she first found endearing about him? Meanwhile, Haruka, a rival for Risa's affections, shows up and asks her to be his companion for the school festival, and suddenly Atushi shows signs of jealousy. Most surprising is when one of the duo suddenly decides to take preparing for the future seriously, which only leaves the significant other confused.
THE LOWDOWN: Not another high school shoujo romance manga! you might say. However, Love*Com (also known as Lovely * Complex) is a little more than that. Love*Com presents a young relationship in which all feelings, thoughts, desires, misunderstanding, feuds, and yearnings are put out front, yet there is still much mystery about the internal workings of this series' leads. For all that the young lovers say, they still intrigue the readers by making them wonder what's really going on behind those beautiful, expressive eyes. Love*Com is not shallow like so many teen romances and drama offered to the entertainment-consuming public.
Creator Aya Nakahara is easily one of the best shoujo manga artists in terms of storytelling and figure drawing. She might lack the gilded beauty of an Arina Tanemura, but Nakahara uses deforming and abstraction, as well as a delicate pen that accurately cartoons the human figure, to create art that plumbs the depths of human emotion in a way that few manga-ka (creators) do. It may at times seem too talky and verbose, but there's something deep here.
POSSIBLE AUDIENCE: Although it's part of VIZ Media's line of manga for teen girls ("Shojo Beat"), Love*Com will likely also appeal to adult women.
A-
Last Updated: January 24, 2022 - 11:00