Love*Com: Volume 8
By Leroy Douresseaux
September 16, 2008 - 15:30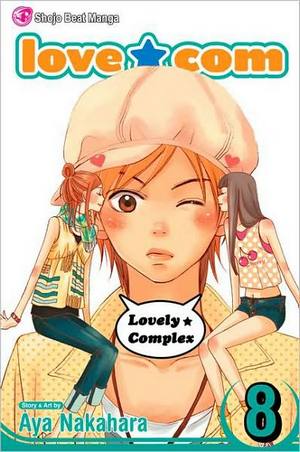 Thanks to barnesandnoble.com for the above cover image.
Rated "T" for "Teen"
Risa Koizumi is the tallest girl in class. Atushi Ôtani is the shortest boy in class. Risa had a hard crush on Atushi, and he played hard to get until she got him.
As Love*Com, Vol. 8 begins, Risa and Atushi have spent summer vacation in summer school, but they begin the school year as an official couple, much to the delight of their fellow classmates. However, Risa is having trouble figuring out how to act like a girlfriend after being "just a friend" for so long, and Atushi isn't helping at all. So it doesn't help matters when Risa not only meets Atushi's old girlfriend, but also an aggressive, previously unseen rival for Atushi's affections.
THE LOWDOWN: Although billed a teen shoujo (girls' comics) romance, Love*Com is surprisingly mature. On the surface, it may seem like another vacuous tale of teen love, school rivalry, and shopping, but Love*Com is deeper. It's a tale of budding love and strengthening, intimate friendship that recalls the film, When Harry Met Sally. Risa is trying to find the heart of serious love. Manga-ka (creator) Aya Nakahara is a strong artist and visual storyteller, and she has the added bonus of being able to draw fantastic, expressive faces and deep, beautiful eyes. This is a near-perfect love story for any age.
POSSIBLE AUDIENCE: Although part of VIZ Media's "Shojo Beat" line of manga for young female readers, Love*Com calls all lovers of love stories to its pages.
A-
Last Updated: January 24, 2022 - 11:00