Love*Com: Volume 6
By Leroy Douresseaux
May 12, 2008 - 07:23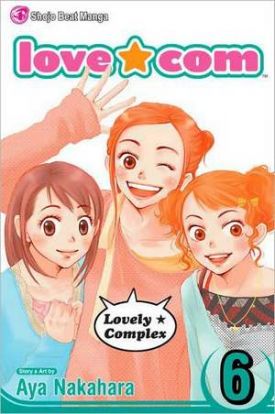 Thanks to barnesandnoble.com for the image.
Rated "T" for "Teen"
Risa Koizumi is the tallest girl in class. Atushi Ôtani is the shortest boy in class. Risa has a hard crush on Atushi, but he's playing hard to get.
In Love*Com, Vol. 6, Atushi wins two tickets to a concert, he asks Risa to go with him. Could this be a first date or the biggest fight of their admittedly contentious relationship? Later, the school gets a new teacher, Maitake Kuniumi aka "Mighty." Many of the female students are madly in love with Mighty, including Risa. When she starts a fan club, "The Mighty Girls," Atushi becomes royally pissed off about it. Is Risa trying to make him jealous? Why does Atushi keep making her so mad?
THE LOWDOWN: Just reading the cover copy of Love*Com told me that I wouldn't be interested in this manga and reading it would be a chore. I'm disappointed to say that I enjoyed it, which probably means I'm turning into a girl (because I find myself enjoying a rapidly increasing number of shoujo or girls' comics titles).
The bickering couple is a well worn fictional cliché, but storyteller must put his or her own stamp on this old chestnut. Manga-ka Aya Nakahara pulls it off by varying the mood throughout the narrative. Love*Com is by turns madcap, romantic, serious, farcical, etc., and Nakahara does this by how she presents the visuals. She'll highlight or draw all the attention to a character by toning that lone image or even employ a smart use of deforming. The panels aren't static. Just like tempestuous teen love, Love*Com is lively and in a state of flux. It's also surprisingly likeable.
POSSIBLE AUDIENCE: Love*Com epitomizes the "Shojo Beat" line's emphasis on quality and entertaining YA drama.
B+
Last Updated: January 24, 2022 - 11:00