Comics / Manga / Yaoi Manga
Love Circumstances (Yaoi)
By Leroy Douresseaux
May 24, 2008 - 12:01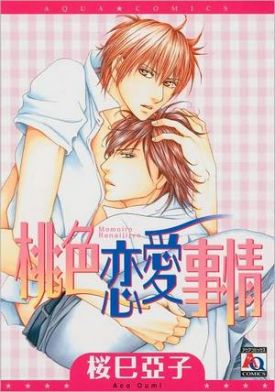 801 Media's edition drops most of the Japanese cover type.
"18+ Mature Content"
Love Circumstances collects manga-ka Aco Oumi's "Peach Colored" a suite of yaoi manga stories (romance or boys' love comics featuring explicit sex between male lovers), with an additional four short pieces.
The "Peach Colored" stories star Yamaguchi and his roguish lover, Takagari, who were best friends before they became lovers. That status as friends turned lovers is what bothers Yamaguchi because he just can't accept the idea that Takagari finds him attractive. He stubbornly obsesses over that, and, although he loves Takagari, Yamaguchi is also bothered by fact that when Takagari is making love to him, Yamaguchi feels girlish!?!
In "A Giving Man," rich pretty boy Yoshihiko, who moonlights as a paid escort, moves into ordinary guy Mizusawa's apartment. Before Mizusawa knows it, Yoshihiko is putting the moves on him, but is this love or is Mizusawa just another customer? In the two-part, "The Pure Love Wolf" and "The Wolf Next Door," roommates become lovers in spite of girlfriends and divorce. Finally, in "Love and Work," Kenzaki, a women's clothing salesman, falls in love with Shinoda, a male manager of a women's clothing store who has a knack for picking out clothes that women love. Can Kenzaki and Shinoda fall in love without letting business considerations mess up a budding personal affair?
Most of the stories in Love Circumstances are surprisingly dull or uninspired. The "Peach Colored" stories have good characters, but 90 pages of Yamaguchi stubbornly fixating on why someone loves him is just too much. It made me want to shout "Just shut up and bend over!"
The "Wolf" stories are a little better, nicely mixing physical love with melodramatic subplots about other lovers, girlfriends, and "why is he keeping a secret from me?" The best story in this volume is the honestly heartfelt, "Love and Work." Not only are Kenzaki and Shinoda good characters, but their relationship, which finds business clashing with personal, is familiar to many couples. Perhaps, Aco Oumi can make "Love and Work" into a short novel.
C+
Last Updated: Jun 26, 2018 - 9:28