Comics / Manga / Yaoi Manga
Ritsu Natsumizu's Love Bus Stop (Yaoi)
By Leroy Douresseaux
Jul 11, 2008 - 9:41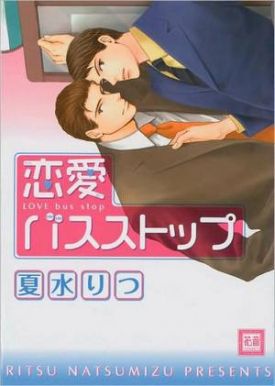 June Manga edition of Love Bust Stop will keep the cover image, but add English cover copy.
Rated "M" for "Mature Audiences 18+"
Love Bus Stop is Ritsu Natsumizu's collection of tales about surprise love. It's when that special someone suddenly catches your eye or steals your breath away or even steals a kiss. The volume, which is framed by the "Bus Stop trilogy," emphasizes romantic love and courtship over the physical sex that typically denotes yaoi manga (comics depicting explicit sex between two men).
In "Fantasy Bus Stop," "Love Bus Stop," and "Passion Bus Stop," blond Tsuzuki encounters a handsome dark-haired man at the bus stop. After some awkward moments, there's a whirlwind romance, but it seems as if the two men will never consummate their love.
Meanwhile, "All My Flowers," finds a flower shop owner, Hayama, and middle school teacher, Tohyama, stumbling towards love, as they manage a vocational program at the flower shop for students. Kudaka is always the drunk one at office parties, so when he finds fellow worker, the sober Kouda, sitting next to him, a drunken Kudaka steals a kiss. Can a lush and a teetotaler get in on in "First Kiss?"
Love Bus Stop is a nice, if tepid read. Manga-ka (creator) Ritsu Natsumizu spends much of the narrative in each story having the characters work through the things that make them different. Love is hard work, but that hard work has to be done before the pants come off.
B

Last Updated: Jun 26, 2018 - 9:28