Love Attack: Volume 1
By Leroy Douresseaux
Nov 26, 2007 - 12:55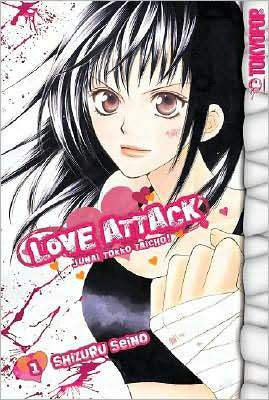 Thanks to barnesandnoble.com for the image.
In the shojo manga (girls' comics),
Love Attack
by
Shizuru Seino
(
Girl Got Game
), two high school brawlers discover that being in love can be a fight, but fighting for love may not be such a bad thing.
First year high school student, Chiemi Yusa is the toughest girl in school, and she usually makes her points with punches and flying kicks. Still, one fight too many lands her at the door to being expelled from school. A teacher makes Chiemi an offer she can't refuse – reform another combative student and get a clean slate. Akifumi "Deranged Devil" Hirata is the nastiest fighter in the whole school, and all Chiemi has to do is get him to clean up his act – no more fighting and show up for class. That's easier said than done, especially when the reformer, Chiemi, is just as belligerent as her project, Hirata. When they fall in love, Chiemi and Hirata have to learn to settle love spats without fisticuffs.
THE LOWDOWN: Love Attack's premise may sound like just another spin on a high concept – two people who are just too much alike become a bickering couple, but this comedy/romance has a lot of surprises in store for readers. Chiemi and Hirata are constantly fighting with other students (though they aren't bullies), but in most every other way, they're typical teens beset with the same insecurities as other teens, especially in the area of love.
Love Attack stays fresh because manga-ka Shizuru Seino relies on that old staple of drama – conflict. There is so much conflict in the Chiemi/Hirata romance, and there are always obstacles to overcome (Hirata's friends, Chiemi's friends, and her male cousin who is too attached to her, etc.). Watching the pair work their way out is fun and sometimes exciting when flying kicks are the only things that will work out the kinks in a relationship.
POSSIBLE AUDIENCE: Just a touch more randy that the average shojo, Love Attacks should appeal to 'tweens and older shojo fans looking for an energetic and spicy romance comic with an edginess that is simply winning.
B+
Read the Bin review of Shizuru Seino's Heaven!!.
Shop TOKYOPOP at the Amazon aStore.
Last Updated: Jun 26, 2018 - 9:28