Comics / Manga / Yaoi Manga
Living for Tomorrow (DokiDoki)
By Leroy Douresseaux
Jun 5, 2009 - 11:11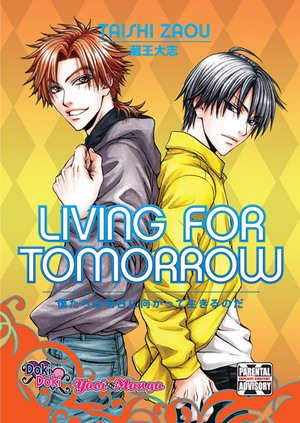 Living for Tomorrow cover image
Drama/Romance; Rated "18+ Mature"
Tasuku Mizuochi is a high school karate master, and he's always kicking his best friend, Ryouta Oono's butt. But Tasuku has a secret. He abuses Ryouta because he loves him. Confused and embarrassed by this secret crush, Tasuku takes his frustrations out on Ryouta, but that doesn't put an end to Tasuku's feelings. In the meantime, Tasuku learns that he may have inherited his mother's powers. She was an "ageman" (pronounced ah-gay-man) – a woman who brings good fortune to men. Tasuku wonders if this special power is the thing that will help him capture Ryouta, or if it will make matters between them worse.
Living for Tomorrow is a boys' love manga from creator Taishi Zaou (who also works under the name Mikiyo Tsuda); it's a shounen-ai romance that eventually delves into the explicit sex of yaoi in its second half. Other than that, Living for Tomorrow is not particularly noteworthy. It's certainly a sweet and tender-hearted romance, and even the sex, which is quite explicit, has a gentle nature about it. The romance is not hot, nor is it even simmering.
Living for Tomorrow isn't particularly dramatic, and the comedy is soft (but not uninspired). The leads are good, but typical boys' love characters, and it is the supporting character, the sassy Katsuyama, who acts sort of like Jiminy Cricket-type, who is the most lively and interesting player here. This is certainly not average work; Taishi Zaou's outstanding character drawing (excellent work on the figures and simply great work on the heads and facial features and expressions) keep Living for Tomorrow above most yaoi manga. This graphic novel just seems like it could have been much better.
B
www.digitalmanga.com
www.akadot.com
Shop for Yaoi Delgihts.
Last Updated: Jun 26, 2018 - 9:28