Winslet and Haley Anchor Little Children (2007 Oscar Nominee)
By Leroy Douresseaux
June 7, 2007 - 17:38
Little Children (2006)
Starring: Kate Winslet, Patrick Wilson, Jennifer Connelly, Gregg Edelman, Sadie Goldstein, Ty Simpkins, Noah Emmerich, Jackie Earle Haley, Phyllis Somerville, Helen Carey, and Mary B. McCann
DIRECTOR: Todd Field
WRITERS: Todd Field and Tom Perrotta (based upon the novel by Perrotta)
PRODUCERS: Albert Berger, Ron Yerxa, and Todd Field
GENRES: Comedy, Drama
RATING: MPAA - R for strong sexuality and nudity, language, and some disturbing content
DISTRIBUTION: New Line Cinema
The lives of several suburbanites who are struggling with satisfaction intersect on the streets of their small town in director Todd Field's Little Children.
Sarah Pierce (Kate Winslet) is a young mother who doesn't really know how to be a mother to her daughter, Lucy (Sadie Goldstein). She is dissatisfied with her husband, Richard (Gregg Edelman), so she starts an affair with stay-home dad, Brad Adamson (Patrick Wilson). Brad has failed the bar exam twice, much to the chagrin of his wife, Kathy (Jennifer Connelly), who while preoccupied with her career, still has time to suspect that Brad and Sarah are having an affair while using Lucy and their son Aaron (Ty Simpkins) as cover. Meanwhile, Ronnie J. McGorvey (Jackie Earle Haley), a child predator recently released from prison, has moved back in with his mother, May McGorvey (Phyllis Somerville), much to the consternation of his neighbors. The angriest resident is Larry Hedges (Noah Emmerich), a retired cop with a tragic past. Will Lyman, the voice of PBS's "Frontline," provides narration.
Fields seems to be of two minds in Little Children. For most of the first hour, Little Children is a satirical comedy about suburban dissatisfaction. It's almost an anthropological study of suburbanites who are physically adults and who have taken on adult responsibilities, but who are really adolescents. The second half of Little Children is mostly a domestic drama that deals with the repercussions of immaturity, irresponsibility, and disloyalty to the nuclear family to which one belongs.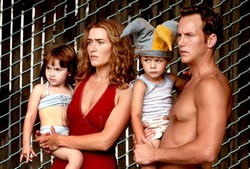 A pivotal scene from the film featuring Sadie Goldstein, Kate Winslet, Ty Simpkins and Patrick Wilson
Chilling, smart, acerbic, poignant, and occasionally sly, Little Children takes a sharp look at suburban life without criticizing the lifestyle so much as it mocks how some live it. (Thanks in no small part to Will Lyman's narration.) In that, Little Children is potent, but it has a glaring weakness. It drifts in the middle. Somewhere between transforming from a social satire to an edgy domestic drama, the narrative gets really soft. It's enough to kill the film, before the edgy events of the second half take hold.
The performances are good, but Kate Winslet, who earned many award nominations for playing Sarah Pierce, is merely good, not great, which is good enough. (She doesn't have to be great all the time.) On the other hand, Jackie Earle Haley makes the most of his relatively small role. He doesn't make Ronnie a sex offender with a heart of gold. In fact, he isn't shy about showing how dangerous Ronnie can be. Ultimately, what opens this film and what earned him so much praise, is how Haley reveals the struggle and frustrated anger that resides in a man who cannot grow a good future because he may be trapping himself in the poison ground of his dreadful, sinful past.
B+
2007 Academy Awards: 3 nominations for "Best Performance by an Actress in a Leading Role" (Kate Winslet), "Best Performance by an Actor in a Supporting Role" (Jackie Earle Haley), and "Best Writing, Adapted Screenplay" (Todd Field and Tom Perrotta)
Other Bin reviews of this film: Al Katrina and Tony Farinella.
Last Updated: March 10, 2022 - 22:00