Comics / Comic Reviews / More Comics
Legends: The Enchanted #0
By Leroy Douresseaux
February 2, 2010 - 14:22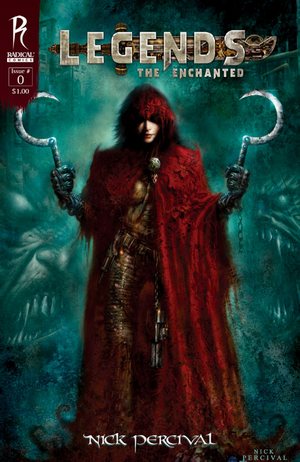 Legends: The Enchanted #0 cover image
Legends: The Enchanted is an upcoming hardcover, original graphic novel from Radical Publishing. Created, written, and painted by illustrator Nick Percival (Dead of Night), the graphic novel is set in a creature-infested world where foul magic, nature, and technology are apparently in constant conflict. Radical is offering Legends: The Enchanted #0 as a 28-page, $1 preview of the graphic novel.
Percival has taken folklore and fairy tale characters and placed them in a dark, steampunk world and turned them into twisted, leather-clad, blade-wielding dark warriors with a palatable edginess. They are now "The Enchanted," supernatural immortals. The story presents Jack of "Jack and the Beanstalk" as "Jack the Giant-Killer," a sword-for-hire who is more John Constantine than boy hero. Little Red Riding Hood is now the wolf-hunting Red Hood, and the wolves are like the werewolves of the Underworld film franchise. The trigger for this narrative is the mutilation of the half-wooden, half-mechanical warrior, Pinocchio, by a shadowy conspiracy searching for a way to rob the Enchanted of their ability to heal their wounds.
THE LOWDOWN: Nick Percival's art looks like an amalgamation of John Bolton and H.R. Giger, but the graphic storytelling reads like a traditional comic book. The art may be a bit unusual, but the design and structure is pure comic book. The intention of Legends: The Enchanted #0 is to get readers tempted enough to want to buy the entire graphic novel.
I would encourage readers interested in violent, dark, action or sword-and-sorcery-like fantasy to buy this comic book. Percival's work here is quite good and certainly worth 1 buck. In fact, I must admit that I really want to read the rest.
POSSIBLE AUDIENCE: Readers who enjoy comics based on Robert E. Howard creations may like Legends: The Enchanted.
A-
Last Updated: September 6, 2021 - 08:15