Legacy: A Novel by Thomas E. Sniegoski
By Leroy Douresseaux
November 4, 2009 - 07:48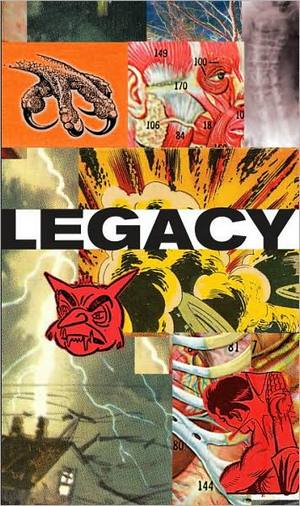 Legacy cover image
A comic book creator (Erik Larsen, if I remember correctly) once wrote that boys who read Hulk comic books were not interested in retrofitted stories about the father of Hulk alter ego, Bruce Banner, being an alcoholic. They wanted to read stories about the Hulk smashing things. In his recent novel, Legacy, author Thomas E. Sniegoski offers a Young Adult superhero novel about a troubled son and a bad dad that doesn't skimp on smashing things.
Legacy's protagonist is Lucas Moore, a high school dropout residing in a small, dusty Arizona town. He lives in a trailer park with his mother, Cordelia Moore, a hard-drinking woman unhappy that her son left school and works as an auto mechanic. When he's not arguing with his mom, Lucas is usually drinking himself into a stupor.
Then, Lucas' absentee father shows up one day. Not only does his father turn out to be billionaire Clayton Hartwell, he is also the legendary vigilante superhero, The Raptor (like Batman blended with Iron Man). Hartwell is apparently dying, so he is looking for an heir to carry on his fight because, as he tells his Lucas, evil is growing. Hartwell whisks Lucas off to his palatial state, and, as if caught in a whirlwind, Lucas soon finds himself studying and training to be a superhero. However, on his first night on patrol in crime ridden Seraph City, Lucas sees a side of his father as The Raptor that makes him wonder just how thin the line between good and evil is.
In the post-Harry Potter world of Young Adult and juvenile literature, authors realize that their young readers are as capable of grasping darker adult material as they are at handling light-hearted adventure. Sniegoski drops his protagonist in the fun of superhero adventure, but at the cost of dealing with complicated issues not only of good and evil, but also of familial obligation.
As this novel begins, Lucas Moore is a man, not a boy. By choice, he has put aside boyhood. His social and professional status shouldn't fool anyone. Some may consider Lucas a loser, but he simply is a young man who hasn't lived enough of his life for us to consider him to be in a rut or to be a loser because he is a mechanic and is not in college or in the military. In a way, the return of his father, Clayton Hartwell, is a return to childhood for Lucas. Both Hartwell and his superhero identity, The Raptor, seem to require that Lucas except and adapt to the status of pupil, follower, and obedient boy-child, relinquishing the adulthood Lucas took for himself when he left school.
The novel seems to ask this of its hero: if Lucas did not let the legacy of his absentee father dictate his life before he came into it, why should his father's legacy dictate Lucas' future now that his father is in his life? Sniegoski apparently assumes that his intended young audience is already at least beginning to contemplate real world and adult issues. Legacy is filled not just with choices to be made, but also with moments and situations that make you think about choices. Writing in a breezy easy-to-read style, Sniegoski challenges his readers, and they're rewarded with a book that is worth reading – one that doesn't offer easy answers, because doing the right thing isn't always easy.
Legacy offers a hero through which readers can live vicariously, and while they may see the world through him, and they may also believe that they are helping him through his decisions. At the same time, Legacy gives readers a rip-roaring superhero action thriller that smashes things and soars into the sky above. It turns the dysfunctional father-son relationship into a fun superhero story, but a smart one.
A-
Last Updated: August 31, 2023 - 08:12