LBX: Volume 5 manga review
By Leroy Douresseaux
May 7, 2015 - 23:23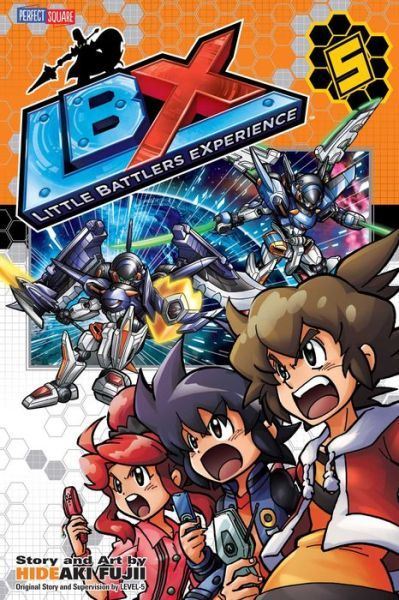 LBX: Volume 5 cover image is courtesy of barnesandnoble.com.
Follow me on
Twitter
.
Rated "A" for "All Ages"
It is the hottest toy in the year 2050. The
LBX
(Little Battlers eXperience) is a miniaturized robot made of a new super-strong industrial cardboard.
Van Yamano
is a rising LBX player, but he doesn't just play with these battle-robots for fun. In order to save his father,
Professor Yamano
, he has to keep the LBX, named "Achilles," out of the hands of evil at all costs.
As
LBX

, Vol. 5
(Chapters 18 to 22, entitled
New Hope
) opens, the world faces the tyranny of "
The Directors
." Using five computer hubs that are hidden around the world, this terrorist groups has turned LBXs against their owners. Van, with the help of new pal,
Hiro Hughes
, and
Laura Hanasaki
, a tough new member of Van's crew, fight to stop the Directors' plot.
Van, Hiro, and Laura have merged their respective LBXs into one super-battle-robot,
Super LBX Sigma Orbis
. Now, they take on the Directors'
Slayer Droid
. After the trio destroys the fourth computer hub, they move on to the last, but their enemy awaits them with its own surprising Super LBX. Meanwhile, the Directors reveal their true plot.
[This volume includes bonus comics.]
THE LOWDOWN:
Who would have thunk it – mother, mother funk it. The
LBX
manga proves to be quite entertaining! It is the kind of comic book that I would have loved as a kid. As an adult, I find it more than mildly-amusing.
The manga is the creation of
Hideaki Fujii
and is based on the
LBX
role-playing action video games originally created by Level-5 for the PSP. VIZ Media is publishing the manga as a bi-monthly graphic novel series, and published the first two volumes simultaneously, through its Perfect Square imprint. Perfect Square focuses on "all ages" books, which can be read by anyone, but especially by elementary-age children who want to read comic books and manga.
VIZ Media sent me copies-for-review of the first two
LBX
manga. When I passed them on to my nephew, he not only loved the graphic novels, but also started demanding LBX toys. After all,
LBX
is aimed at his age group. Still,
LBX Volume 5
is a good read, and as it heads towards a conclusion of its first story, I actually hope there is more.
POSSIBLE AUDIENCE:
Young comic book readers who are ready for graphic novels will want to read the Perfect Square manga,
LBX
, and maybe even buy an LBX toy.
Rating: B /10
Last Updated: August 31, 2023 - 08:12