LBX: Volume 1 Advanced manga review

By Leroy Douresseaux
November 1, 2014 - 23:15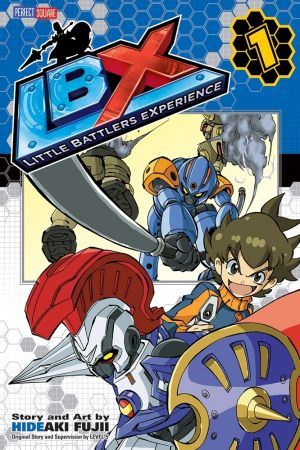 LBX Volume 1 cover image
Rated "A" for "All Ages"
LBX
(Little Battlers eXperience) is a manga created by
Hideaki Fujii
that is based on the LBX role-playing action games. This video game series was originally created by Level-5 for the PSP. VIZ Media is publishing the manga in a bi-monthly graphic novel series.
LBX

, Vol. 1
(Chapters 1 to 4, entitled New Dawn Raisers) introduces Van Yamano, a boy who really loves LBX! These miniaturized battle-robots are the hottest toys in the year 2050. The problem is that Van's mother does not want him to play with LBX because she blames them for the death of her husband and Van's father, Professor Yamano.
Little does she know that the professor left a very special LBX just for Van. However, the C.I.O. and the New Dawn Raisers know about the special LBX and are interested in Van.
[This volume includes the original LBX story from Coro Coro Comics magazine.]
THE LOWDOWN:
VIZ Media publishes the
LBX
manga through its Perfect Square imprint, which offers "all ages" books. These are comic books for elementary age children, and if they have the patience and can read at their grade level, then, young readers can grasp the uncomplicated LBX.
I must admit that I find
LBX Volume 1
to be surprisingly intense with a relatively believable sense of impending death directed at the heroes. This isn't the kind of guaranteed death that comics like Kick-Ass or Preacher presented. Still, the duels between LBX players seem painful, but I also have to admit that I would read this again. LBX may be genuine kids' comics, but it offers up some interesting questions to which I want to know the answers.
POSSIBLE AUDIENCE:
Young comic book readers who are ready for graphic novels will want their own
LBX
.
Rating: B /10
Last Updated: August 31, 2023 - 08:12