Comics / Comic Reviews / More Comics
The Last Days of American Crime #3
By Leroy Douresseaux
September 2, 2010 - 12:19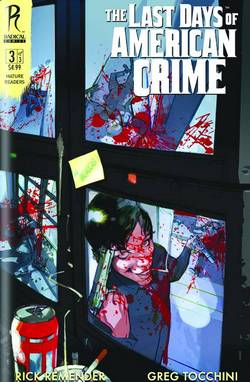 The Last Days of American Crime #3 cover image
In the crime comic book series, The Last Days of American Crime, the government is going to send out a mind-altering signal called the American Peace Initiative, which will make it impossible for anyone to knowingly commit any crime. Secondly, the government is moving the entire economy from one based on paper currency to one based on a Federal charge card.
50-something petty thief and security guard, Graham Brick is plotting to steal one of the Federal charge card machines with his crew: Collins, an old pal; Kevin Cash, an acerbic safecracker; and Shelby Dupree, Cash's girlfriend who handles the "computer stuff." Each of the four has his or her own secrets and own poisonous agenda, and new players are constantly entering their game.
As The Last Days of American Crime #3 opens, Graham and Shelby escaped Enrique's clutches only to end up in the brutal hands of his goons. Later, Kevin shows up worse for wear, and the heist is launched mere ours before the A.P.I. is to be activated, but the last crime in the history of America is not going down with a hitch or two.
THE LOWDOWN: After a brief lull in the second issue, The Last Days of American Crime returns and ends with a bang and a couple dozen twists. Creator/writer Rick Remender (Fear Agent) has created a crime comic book this is not only a lovely homage to heist movies, but also a very good read in its own right. Greg Tocchini (1602: New World) will surprise readers with this last issue, as he depicts serenity about as well as he can scenes of harrowing bloody hell.
POSSIBLE AUDIENCE: Crime fiction fans must have The Last Days of American Crime.
A-
Last Updated: August 31, 2023 - 08:12