Comics / Comic Reviews / More Comics
The Last Days of American Crime #2
By Leroy Douresseaux
April 27, 2010 - 20:01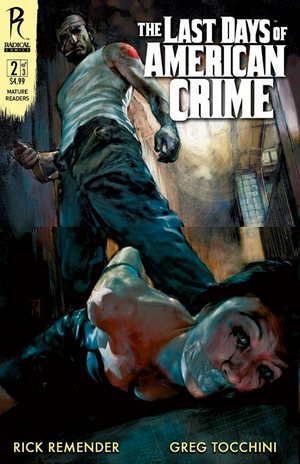 The Last Days of Crime #2 Cover A by Alex Maleev
First, the government is going to send out a mind-altering signal called the American Peace Initiative, which will make it impossible for anyone to knowingly commit any crime. Secondly, the government is moving the entire economy from one based on paper currency to one based on a Federal charge card (called the Fiduciary Charge Card). That's the hook in the three-issue comic book series, The Last Days of American Crime, from creator/writer Rick Remender (Fear Agent) and artist Greg Tocchini (1602: New World).
The focus of The Last Days of American Crime is Graham Brick, a 50-something petty thief and security guard, who is plotting to steal one of the Federal charge card machines for himself before they go online and before the A.I.P. is activated – in two weeks. His partners are Kevin Cash, an acerbic safecracker, and Shelby Dupree, Cash's girlfriend who handles the "computer stuff." Each of the three has his or her own secrets and own poisonous agenda, and new players are constantly entering their game.
In The Last Days of American Crime #2, Kevin faces his dark past when he pays a visit to his kingpin father who has a piece of hardware essential to the heist. Meanwhile, Graham faces his recent past when former partner, Enrique, comes looking for the big payback.
THE LOWDOWN: In terms of violence, The Last Days of American Crime is hardcore. However, this grittiness doesn't ring hollow, and the desperation and cynicism that define its players' brutal and gloomy world perfectly captures our edge-of-the-future malaise. In this issue, at least, I do think that the violence and action seem to take away from the characters rather than help shape them, but this remains a good read.
POSSIBLE AUDIENCE: Crime fiction fans will want The Last Days of American Crime.
B+
Last Updated: September 6, 2021 - 08:15