La Corda D'Oro: Volume 17 manga review
By Leroy Douresseaux
April 30, 2013 - 16:02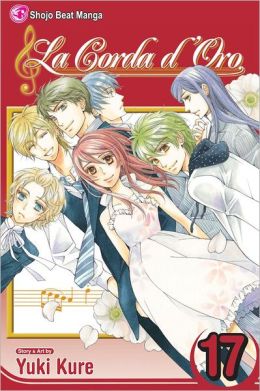 La Corda D'Oro Volume 17 cover image is courtesy of barnesandnoble.com.
Rated "T" for "Teen"
Seisou Academy is a prestigious high school that is divided into the General Education School and the Music School. Kahoka Hino is a General Ed student, and she wants to enter the school's prominent musical competition. However, she cannot play any musical instruments, and also, the competition is open only to students in the music department. Then, a music fairy named Lili gives Kahoka a magical violin that has her suddenly playing like an expert.
As La Corda d'Oro, Vol. 17 (Chapter 71 to Final Chapter) begins, Ryotaro Tsuchiura, the General Ed student and soccer player turned pianist, decides that it is time to reveal to Kahoko that he loves her. Meanwhile, Kahoko pines away for Len Tsukimori, the violin player and cold perfectionist. Len, however, graduated and is in America where he is gaining widespread acclaim for his playing. Other boys are trying to make Kahoko forget about Len, but graduation, a reunion, and a new musical project force Kahoko to choose – is it music or is it love?
THE LOWDOWN: Vol. 17 is the final volume of the La Corda d'Oro manga. This series is based on the Japanese role playing game, Kin'iro no Corda, and "la corda d'oro" is apparently an Italian phrase that translates to "the golden string."
I am not familiar with the video game, but I have read many other manga that were adapted from video games. I was surprised to learn that it was based on a game because La Corda d'Oro is such a pure high school shojo romance. The characters are gorgeously drawn, featuring photogenic boys and pretty girls with big emotive eyes. There are break-ups, yearnings, love triangles (and even love quadrangles), school tests and competitions, and the usual assorted shojo teen romance melodrama.
I can't exactly claim that I'll miss it. I only read La Corda d'Oro when VIZ Media's press rep sent me a copy. But I cannot deny that La Corda d'Oro is a good read.
POSSIBLE AUDIENCE: It plays a tune that will delight fans of high school shojo romance, and the music will go on in the Shojo Beat title, La Corda d'Oro.
Rating: B+ /10
Last Updated: August 31, 2023 - 08:12