La Corda d'Oro: Volume 15
By Leroy Douresseaux
February 22, 2012 - 07:46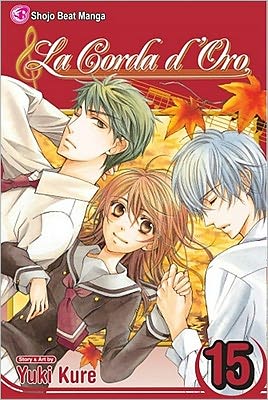 La Corda d' Oro Volume 15 cover image is courtesy of barnesandnoble.com.
Rated "T" for "Teen"
Kahoko Hino wanted to enter a prominent musical competition at Seisou Academy. This high school is divided into the General Education School and the Music School. Kahoka is a General Ed student, who could not play any musical instruments. Then, a music fairy named Lili gave Kahoka a magical violin that had her suddenly playing like an expert.
As La Corda d'Oro, Vol. 15 begins, Kahoko is hard at work preparing for a school music contest. Meanwhile, her mind is also on Len Tsukimori's impending departure to study abroad. Len has something he wants to say to Kahoko, and two other students, Roytaro Tsuchiura and Kazuki Hihara, also want to talk about love to Kahoko.
THE LOWDOWN: I keep forgetting that the La Corda d'Oro manga is based upon the Japanese role playing game, Kin'iro no Corda. However, La Corda d'Oro (an Italian phrase that translates to "the golden string") is not like other manga adapted from video games that I have had the opportunity to read. It reads like a pure high school shojo romance, complete with good-looking art, pretty teen boys, and gorgeous teen girls. Creator Yuki Kure consistently offers graphic novels that will give readers candy-coated high school melodrama and airy character drama. But these are not exactly empty reading calories because La Corda d'Oro is a good read.
POSSIBLE AUDIENCE: La Corda d'Oro plays a tune that will delight fans of high school shojo romance.
B+
Last Updated: August 31, 2023 - 08:12