La Corda d'Oro: Volume 8
By Leroy Douresseaux
June 25, 2008 - 08:06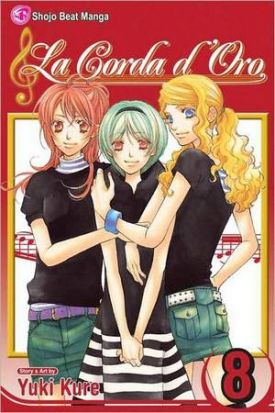 Thanks to barnesandnoble.com for the cover image to La Corda d'Oro #1.
Rated "T" for "Teen"
The shoujo manga (girls' comics) series, La Corda d'Oro, is based upon the Japanese role playing game, Kin'iro no Corda. La Corda d'Oro (which is Italian and translates to "the golden string") focuses on Kahoko Hino and the musically talented students at Seisou Academy. Kahoko, who doesn't play any musical instruments, is able to enter a prominent musical competition when she gets a magical violin from the musical fairy, Lili.
In La Corda d'Oro, Vol. 8 Kahoko learns that the magic can't last forever when her magical violin finally loses its power. Now, Kahoko has to finish a difficult piece of music on her own, but she's not about to give up her newfound love of performing music so easily. Meanwhile, a trip to an amusement park opens up new possibilities in love and romance for Kahoko.
THE LOWDOWN: While La Corda d'Oro is an entertaining story about teen love, school rivalries, and competition, the real drama begins in manga-ka Yuki Kure's absolutely beautiful art. With the sweeping elegance of a cover painting for a romance paperback and the dreamy pretense of a teen soap on The CW television network, Kure's art expresses the longing, yearning, and determination of that time in life when teens are trying to find out who they are. This may not be original, but from the first few pages, this fantastic art takes the reader to someplace special.
POSSIBLE AUDIENCE: Readers of the magazine Shojo Beat, as well as buyers of VIZ Media's "Shojo Beat" line of manga, will like this beautifully drawn series.
B+
Last Updated: January 24, 2022 - 11:00