Kurozakuro: Volume 7
By Leroy Douresseaux
Nov 5, 2011 - 8:28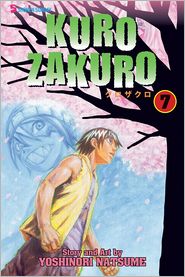 Kurozakuro Volume 7 cover image
Rated "T+" for "Older Teen"
Mikito Sakurai is a gentle, passive high school student, which also means that he is a punching bag for the delinquents on campus. His life changes after he swallows an orb given to him by Zakuro, a mysterious boy he sees in a strange dream world. Zakuro promises Mikito that he will become stronger, but the orb is a seed that turns Mikito into a powerful, man-eating ogre.
In Kurozakuro, Vol. 7, Mikito joins ogre hunters, Gogyo and Kugai, to battle the "Higher Beings," the ones who create ogres. One of the Higher Beings unleashes his newest creations, the Rigres, which are much more powerful and dangerous than ogres. Meanwhile, Zakuro gets closer to being freed. It's the final battle with the fate of mankind and the birth of a new Earth at stake.
THE LOWDOWN: This seventh volume is the final volume of Kurozakuro. Like Togari, another manga from Kurozakuro creator, Yoshinori Natsume, I think this one ends too early. It certainly feels as if Natsume suddenly decided to just wrap it up. However, because there are only seven volumes/graphic novels, readers will find it easier (and cheaper) to take on this series.
Kurozakuro is a dark tale full of monsters, conspiracies, and secret organizations. It is a hero's journey into self-discovery in which the hero, Mikito, finds out just how strong he is and how much everyone else means to him. It's Harry Potter with a dash of Steve Ditko's The Creeper, and this dark fantasy and battle manga is worth your time.
POSSIBLE AUDIENCE: Readers looking for dark fantasy will find a good manga in Kurozakuro.
A-
Last Updated: Jun 26, 2018 - 9:28