Kurozakuro: Volume 3
By Leroy Douresseaux
Mar 3, 2011 - 8:26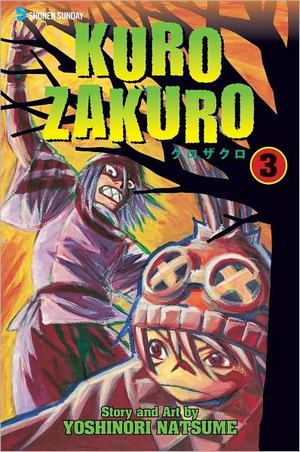 Kurozakuro Volume 3 cover image is courtesy of barnesandnoble.com.
Rated "T+" for "Older Teen"
High school student Mikito Sakurai is gentle and passive, but that just makes him the target of delinquents. His life changes when he swallows a mysterious orb and then encounters Zakuro, a strange boy who lives in his dreams. Suddenly, Mikito develops strange, new, and even dangerous powers, and he discovers that he has become a man-eating ogre.
In Kurozakuro, Vol. 3, Mikito Sakurai joins forces with the ogre hunter, Kugai. Three of Kugai's colleagues attack the duo, determined to punish Kugai for disobeying orders and to kill Mikito for being an ogre. However, all of them are under threat of attack from Suguri, the mysterious ogre-eater who also happens to plant ogre seeds.
THE LOWDOWN: Besides Kurozakuro, a shonen manga, creator Yoshinori Natsume was also the writer/artist of the DC Comics miniseries, Batman: Death Mask. The DC connection is appropriate as Kurozakuro has a resemblance to Steve Ditko's DC Comics character, The Creeper. Kurozakuro shares The Creeper's mixture of the strange (as in character designs) and the deranged (as in character motivation and action). After reading Vol. 1, I thought Kurozakuro was a shonen manga to watch, and I still believe that.
POSSIBLE AUDIENCE: Fans of weird heroes will want Kurozakuro.
A-
Last Updated: Jun 26, 2018 - 9:28