Komomo Confiserie: Volume 5 manga review
By Leroy Douresseaux
September 20, 2016 - 21:14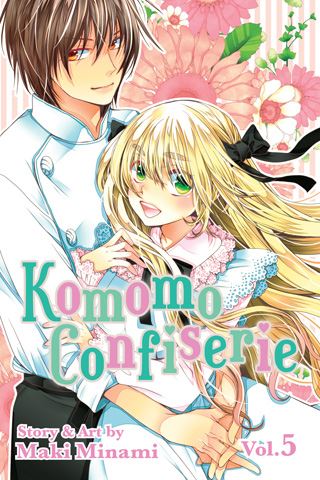 Komomo Confiserie Volume 5 cover image
Rated "T" for "Teen"
Little rich girl
Komomo Ninomiya
delighted in picking on 5-year-old
Natsu Azumi
, who was the son of her family's pastry chef... once upon a time. Ten years later, the Ninomiya family fortune is lost, and 15-year-old Komomo has no place to live. She encounters Natsu again. He is a 15-year-old prodigy patissier who has returned to Japan to care for his family's business,
Méli-Mélo
, a confiserie. Now, Natsu the master pastry chef will help Komomo, but only if she works for him at his new confiserie!
As
Komomo Confiserie

, Vol. 5
(Chapters 24 to 28 to Final Chapter) opens, Komomo and Natsu insist that they do not love each other. However, after Komomo's father returns, he wants her to take a marriage meeting – with the guy to whom she was promised as child. She's shocked to discover who the young man is. Still, Komomo is determined to forge her own path in life, but she is about to realize what she really wants most in life.
[This volume includes the bonus manga, "A Citizen of Amour."]
THE LOWDOWN:
The
Komomo Confiserie
manga was in a trial phase for me for most of its run. I liked
Komomo Confiserie
creator
Maki Minami
's previous manga,
Voice Over! Seiyu Academy
because I enjoyed the mangaka's depiction of the world of voice-over acting for anime. So I was trying to find a way to really like this new series, and I was starting to, but...
Komomo Confiserie Volume 5
is the final volume of the series, and I still hanker for the pastries and sweets depicted in this final volume. I think that the series is wrapping up too quickly; there are still character rivalries, subplots, and pastries to taste. The sweet Komomo is just seeming to come into her own in this final volume, but in the end, at least
Komomo Confiserie
did not turn into a simple cutesy shojo manga. Its five volumes are certainly worth seeking out.
POSSIBLE AUDIENCE:
Fans of Maki Minami will want to taste her Shojo Beat title, Komomo Confiserie.
B+
Rating: B+ /10
Last Updated: February 5, 2023 - 09:06