Komomo Confiserie: Volume 3 manga review
By Leroy Douresseaux
March 2, 2016 - 19:33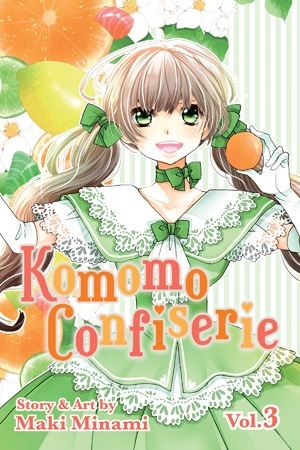 Komomo Confiserie Volume 3 cover image
Rated "T" for "Teen"
Once upon a time, little rich girl
Komomo Ninomiya
delighted in picking on 5-year-old
Natsu Azumi
, who was the son of her family's pastry chef. Ten years later, her family fortune is lost, and 15-year-old Komomo has no place to live. She encounters Natsu again. He is a 15-year-old prodigy patissier who has returned to Japan to care for the family business,
Méli-Mélo
, a confiserie. Now, Natsu the master pastry chef will help Komomo, but only if she works for him at his new confiserie!
As
Komomo Confiserie

, Vol. 3
(Chapters 12 to 17) opens, Komomo is feeling strange. What is that strange feeling, she wonders? It's love, and Komomo is in love with the shoemaker's apprentice, Shu Seto. Now, Komomo will learn how complicated love can get.
THE LOWDOWN:
The
Komomo Confiserie
manga is still in a trial phase for me. I liked
Komomo Confiserie
creator
Maki Minami
's previous manga,
Voice Over! Seiyu Academy
. I guess I was enthralled by Minami's depiction of the world of voice-over acting for anime. [By the way, I went to a small comic book convention last year, and there was an English-dub actor there. The line of attendees and fans to meet him was crazy-long for just about the entire two days of the con.]
Now, I falling for pastries. Like the previous volume,
Komomo Confiserie Volume 3
is so sweet and romantic and sweetly romantic. What is different this time is the depiction of how quickly sweet, sweet love can turn acidic. It is a little off-putting to see characters repeatedly stung by the vagaries of love. That is what keeps
Komomo Confiserie
from being just another cutesy shojo manga, because this manga loves to give love a shojo beat down.
POSSIBLE AUDIENCE:
Fans of Maki Minami will want to taste her latest Shojo Beat title,
Komomo Confiserie
.
A-
Last Updated: August 31, 2023 - 08:12