Komomo Confiserie: Volume 2 manga review
By Leroy Douresseaux
December 11, 2015 - 20:04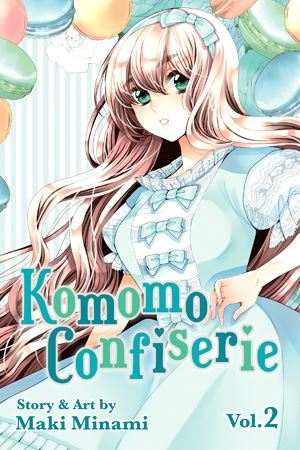 Komomo Confiserie Volume 2 cover image
Rated "T" for "Teen"
When she was a little girl,
Komomo Ninomiya
delighted in picking on 5-year-old
Natsu Azumi
, the son of her family's pastry chef. Ten years later, her family fortune is lost, and 15-year-old Komomo has no place to live. She encounters Natsu again. He is a 15-year-old prodigy patissier who has returned to Japan to care for the family business,
Méli-Mélo
, a confiserie. Now, Natsu the master pastry chef will help Komomo, but only if she works for him at his new confiserie!
Komomo Confiserie

, Vol. 2
(Chapters 6 to 11) opens with friendship. Komomo's classmate,
Rise Kaname
, who bullied Komomo in the beginning is now her friend-girl. Komomo wants to do something for her new pal, so she encourages Rise to date a boy on whom she is crushing. The results are shocking. Plus, Komomo meets a young shoemaker's apprentice.
[This volume includes two bonus manga.]
THE LOWDOWN:
I am still not sure that I will enjoy the
Komomo Confiserie
manga as much as I enjoyed creator Maki Minami's previous manga,
Voice Over! Seiyu Academy
. But there is a chance that I will, especially if there are more volumes like the new one.
Komomo Confiserie Volume 2
is so sweet and romantic and sweetly romantic that shojo-boy that I am, I cannot resist it. Komomo's naive view of love and romance, which she bases on her favorite books and movies, is irresistible. On the other hand, her embrace of the possibilities of her new life is inspiring. In the real world, I think a child of wealth who experiences the family's lost of vast wealth would not be so quick to look at working a service job with Komomo's smile. Or maybe I'm wrong, but not about this manga.
Komomo Confiserie
has potential, and Vol. 2 is particularly good.
POSSIBLE AUDIENCE:
Fans of Maki Minami will want to try her latest Shojo Beat title,
Komomo Confiserie
.
Last Updated: February 5, 2023 - 09:06