Komomo Confiserie: Volume 1 manga review
By Leroy Douresseaux
August 28, 2015 - 22:27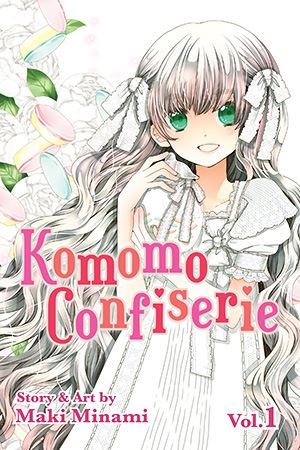 Komomo Confiserie Volume 1 cover image
Rated "T" for "Teen"
As a little girl, 6-year-old
Komomo Ninomiya
delighted in picking on 5-year-old
Natsu Azumi
, the son of her family's pastry chef. Ten years later, her family fortune is lost, and 15-year-old Komomo has no place to live. She encounters Natsu again. He is a 15-year-old prodigy patissier who has returned to Japan to care for the family business,
Méli-Mélo
, a confiserie. Now, Natsu the master pastry chef will help Komomo, but only if she works for him at his new confiserie!
Komomo Confiserie

, Vol. 1
(Chapters 1 to 5) opens with a recollection of the past, 10 years earlier. Komomo is a spoiled princess, who picks on young Natsu. The truth is, however, that she loves the sweet treats the boy can prepare, even at his young age. In the present day, Komomo is broke, living in a boarding house, and keeps losing her wage-slave jobs.
Her savior arrives, and he even has a new place for her stay – right above the family confection shop. He's the boss, and now, he delivers the torments. Meanwhile, Natsu's pal from France, 23-year-old
Yuri Lacroix
, is coming to join the fun.
[This volume includes two bonus manga.]
THE LOWDOWN:
I am not sure that I will enjoy the
Komomo Confiserie
manga as much as I enjoyed creator
Maki Minami
's previous manga,
Voice Over! Seiyu Academy
. But there is a chance that I will.
Komomo Confiserie Volume 1
introduces a heroine in
Komomo Ninomiya
that has potential. She is naive, but worldly. She is bedraggled, but determined to be on top again. She is a crybaby with the stiff spine of a stoic. Yes,
Komomo Confiserie
has potential, and I want to see what the next volume has to offer.
POSSIBLE AUDIENCE:
Fans of Maki Minami will want to try her latest Shojo Beat title,
Komomo Confiserie
.
Rating: B+ /10
Last Updated: February 5, 2023 - 09:06