Kodansha Comics Manga Gallery Announces Event
By The Editor
July 30, 2015 - 11:05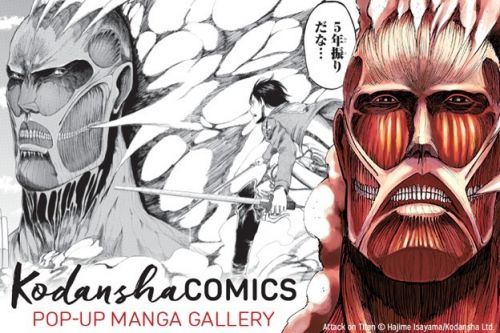 Kodansha Pop-Up Manga Gallery image
KODANSHA ADVANCED MEDIA ANNOUNCES KODANSHA COMICS MANGA GALLERY EVENT AT NEW DIGITAL GARAGE OFFICES IN SAN FRANCISCO
Subsidiary of Japan's Largest Publisher Focuses On Digital Innovation At 2015 J-POP SUMMIT With Manga Technology Demos And Special Free Manga Gallery Exhibit At Digital Garage In S.F; Online Virtual Gallery Further Extends Manga Exhibit To Fans Everywhere!
Kodansha Advanced Media, a subsidiary of Kodansha Ltd., specializing in digital content delivery, invites manga and Japanese pop culture fans to celebrate the launch of a unique digital content venture with a special open house event – The Kodansha Comics Manga Gallery – at the company's new San Francisco offices located at Digital Garage.
The Kodansha Comics Manga Gallery runs Friday, August 7th thru Sunday, August 9th at the Digital Garage/DG717 complex located at 717 Market St., San Francisco, CA and is presented in conjunction with the 2015 J-POP SUMMIT, at which Kodansha will be a participant and sponsor. The Manga Gallery will be open from 10:00am to 6:00pm each day thru Sunday, August 9th and is FREE and open to the public to attend.
The Kodansha Manga Gallery will feature a dynamic collection of works by renowned manga artists/creators such as Katsuhiro Otomo (AKIRA), Naoko Takeuchi (Sailor Moon), Hajime Isayama (Attack on Titan), Hiro Mashima (Fairy Tail), Hitoshi Iwaaki (Parasyte), Shirow Masamune (The Ghost in the Shell) and many more!
For those unable to attend the physical exhibit in S.F., Kodansha also will present an Online Gallery featuring the artwork at kodanshacomics.com.
"The Kodansha Comics Manga Gallery is both a look back at the manga that have defined the medium and Kodansha as a publisher, as well as a look forward to new ways manga can be experienced," says Alvin Lu, Kodansha Advanced Media's General Manager. "We are looking forward to participating in the 2015 J-POP SUMMIT and offering attendees this special exhibition and an exciting look at the future of digital manga."
Kodansha Advanced Media will participate in the J-POP SUMMIT's "Interactive Pavilion," a first-of-its-kind showcase of cutting edge Japanese technology and consumer product design, and will feature the following in coordination with its technology partners:
• Visitors to the Manga Gallery can interactively engage with the artwork using beacon app technology developed by Digital Garage.
• Attendees and manga fans at the Interactive Pavilion can catch a massive Colossal Titan display (from the hit series Attack on Titan) in person at Fort Mason Center. As part of the Kodansha display, J-POP SUMMIT attendees can capture Attack on Titan in a whole new way with RICOH's spherical THETA camera, which takes dynamic 360-degree photos.
• Experience a virtual reality comics reader through the publisher's collaboration with FOVE, a Japanese company developing the world's first eye-tracking VR headset.
The J-POP SUMMIT is a massive annual Japanese pop culture event held each summer in San Francisco and features a colorful assortment of Japanese pop-influenced culture, fashion, pop art, live music, technology and travel exhibits, along with celebrity Guests of Honor, anime programming, cos-play and pop idol contests, and a wide assortment of vendors and other on-site attractions. The 2015 J-POP SUMMIT takes place on Saturday and Sunday August 8th & 9th at the historic Fort Mason Center in San Francisco's Marina district. Tickets and additional information are available at: www.J-POP.com.
About Kodansha USA Publishing
Established in New York in 2008, Kodansha USA Publishing (KUP) is a subsidiary of Kodansha Ltd., Japan's largest publisher. KUP's first works under the Kodansha Comics imprint were Katsuhiro Otomo's Akira and Masamune Shirow's The Ghost in the Shell. KUP has expanded their catalog to include such titles as Fairy Tail by Hiro Mashima, Attack on Titan by Hajime Isayama, Shugo Chara by PEACH-PIT, and Sailor Moon by Naoko Takeuchi. Kodansha Comics is distributed by Penguin Random House Publisher Services.
Established in San Francisco in late 2014, Kodansha Advanced Media is also a subsidiary of Kodansha Ltd., specializing in digital content delivery. Additional information available at: http://www.kodanshacomics.com.
Last Updated: May 19, 2020 - 12:25