Kingyo Used Books: Volume 4
By Leroy Douresseaux
October 18, 2011 - 08:35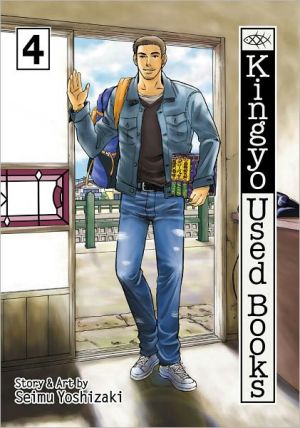 Kingyo Used Books Volume 4 cover image courtesy of barnesandnoble.com.
Rated "T+" for "Older Teen"
The lives of people who intensely love manga or just want to read manga revolve around Kingyo Used Books, a used bookstore that specializes in old and obscure manga. The lives of the store's owners, employees, and customers are sometimes similar to something in a classic manga, where characters can find inspiration and help with problems.
In Kingyo Used Books, Vol. 4, the life of a bratty kid takes a turn when Go Nagai's Devilman comes into his life. The manga, In the Mood for War, is the bond that keeps two old friends, an aging hippie and a salaryman, coming back to each other. A young man discovers that he does indeed share a common language with a fan of manga that he likes, even though they don't always talk about the same thing – courtesy of Ranma½. Pudgy Sasayama, who appears in two stories, discovers that the beautiful people do read manga, and later, he joins a boy to uncover an arsonist's identity. A young magician discovers just how prevalent manga is in people's lives.
THE LOWDOWN: The stories in Kingyo Used Books generally revolve around the eponymous bookstore, but the stories don't always happen in and around Kingyo Used Books. Sometimes, characters related to the bookstore are part of a story or other characters may find their way into the bookstore as a brief interlude to the main plot. Kingyo Used Books is important because it sells used manga, and because the role that manga plays in people's lives is the focus here. The bookstore is a portal into the world of manga, and many Japanese people apparently have manga in their lives. So manga is really the star.
As I said before, the love of manga permeates this series, and series creator Seimu Yoshizaki has a gift for creating engaging characters. You will believe that they consider manga important in their lives. You may come to love manga, if you don't already, or at least be curious after reading this manga.
POSSIBLE AUDIENCE: Manga lovers will love Kingyo Used Books.
A-
Last Updated: August 31, 2023 - 08:12