Kingyo Used Books: Volume 3
By Leroy Douresseaux
April 18, 2011 - 08:29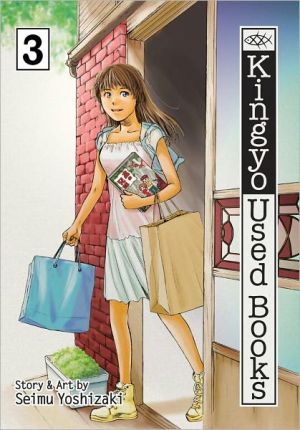 Kingyo Used Books Volume 3 cover image is courtesy of barnesandnoble.com.
Rated "T+" for "Older Teen"
The lives of people who intensely love manga revolve around Kingyo Used Books, a used book store that specializes in old and obscure manga. The lives of the store's owners, employees, and customers reference classic manga with stories that inspire them and sometimes help them solve their problems.
In Kingyo Used Books, Vol. 3, a cowardly pick-up artist finds beauty in shocking horror manga and maybe a girlfriend. Also, a home-style cooking manga brings family and friends together. After taking over Nekotama-Do, a manga-lending library, Nomoto goes on a globe-trotting adventure to retrieve a special manga.
THE LOWDOWN: Like the dark fantasy manga, Yumekuikenbun (Nightmare Inspector), a fantasy manga in which the stories revolved around a tea house, Kingyo Used Books features stories that revolve around a central location, Kingyo Used Books. However, this series is not really about Kingyo so much as it is about manga and related business and culture. The love of manga permeates this series, and creator Seimu Yoshizaki's gift is in creating characters who consider manga important in their lives. This is a manga about manga, and if you love manga, it may make you love manga more. Fans will also love the references to classic and obscure manga.
POSSIBLE AUDIENCE: Manga lovers will love Kingyo Used Books.
A-
Last Updated: August 31, 2023 - 08:12