Kingyo Used Books: Volume 2
By Leroy Douresseaux
October 18, 2010 - 07:10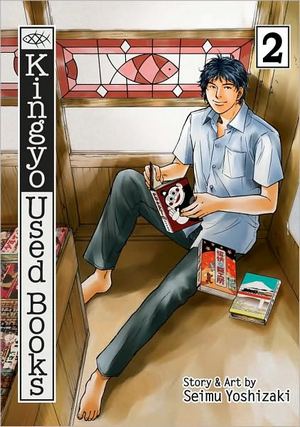 Kingyo Used Books Volume 2 cover image is courtesy of barnesandnoble.com.
Rated "T+" for "Older Teen"
The lives of manga-loving characters revolve around the used manga store, Kingyo Used Books, a place that specializes in old and obscure manga. The characters' individual stories reference classic manga, which sometime help characters through difficult times or solve problems in their lives.
Kingyo Used Books, Vol. 2 opens with the story "His View." It tells the story of Sekiguchi, a student who uses Osamu Tezuka's seminal manga, Adolf ni Tsugu, to find his resolve. In "The Other Side of the Window," a manga based on famous children's literature helps a bar hostess and a little girl separated from her mother unite and escape their troubles.
Okadome is a man who finds and sells manga, but has no real love for manga. He accepts a job that requires he find manga freak, Naoaki Shiba, a boarder at Kingyo, in the story, "Yes or No." Also, meet the family behind Kingyo Used Books in "Dad Again."
THE LOWDOWN: Like the dark fantasy manga, Yumekuikenbun (Nightmare Inspector), in which the stories revolved around a tea house, Kingyo Used Books is essentially an anthology series in which the stories revolve around a central location. That location is Kingyo Used Books. While not all the stories take place in this quaint book store, all the stories are connected to it via characters that are in turn connected to Kingyo in one way or another.
Unlike Nightmare Inspector's stories, the stories in Kingyo Used Books are humorous, light-hearted, or poignant. The series has a warm, inviting, lived in feeling, and reading the stories may make some readers believe that the series is familiar to them. They will recognize the bookstore as being like a business they know. The conflicts and dilemmas of the characters will also seem familiar, as well as the characters themselves, from manga fanatics to family and friends. For manga fans, the joy may simply be in the references to real world manga. Regardless, anyone who tries Kingyo Used Books will find one reason or another to like it.
POSSIBLE AUDIENCE: Manga lovers will like Kingyo Used Books.
B+
Last Updated: September 6, 2021 - 08:15