Comics / Manga / Yaoi Manga
Sanae Rokuya's King of Debt (Yaoi Manga)
By Leroy Douresseaux
Mar 7, 2008 - 14:41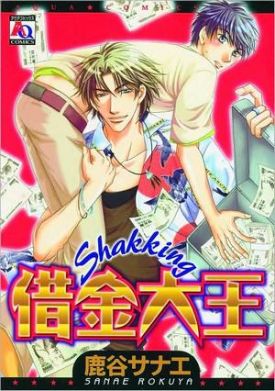 The American edition features this same cover image, but without the Japanese lettering, of course.
TRANSLATION: Melanie Schoen
Taketora is the "King of Debt," and Souta Saiki, his longtime friend, is always loaning him money. Taketora never pays back the money he borrows, but Souta can't bring himself to cut off his freeloading friend.
When Souta loses his job, he has to turn to part-time work, but Taketora is still borrowing money from him. Meanwhile, Souta discovers that his friend lives in a luxury apartment, drives an exotic car, and wears designer suits, but he still wants to borrow money. Souta is shocked and angry, but wait until he discovers how Taketora plans on paying him back.
The yaoi collection, King of Debt by Sanae Rokuya, is all about young lusty male on male love that surprisingly develops out of seemingly ordinary or unusual circumstances. "Rush" presents a boxer who seems to lack gumption and ambition catching the eye of strict young boxing coach. In "My Dear, My Bear," a young man, left to live alone when his brother leaves, discovers that his teddy bear has apparently transformed into a tall, dark, and handsome older guy who just wants to teach the ways of physical love.
THE LOWDOWN: Endearing male characters and steamy sex scenes are the result of Rokuya's patience in creating and designing her characters. Athletic hunks, dark-haired bombshells, and blond pin-up boys have substance to go with their roguish good looks, thanks to good dramatic writing.
POSSIBLE AUDIENCE: Rokuya's eclectic scenarios and shamelessly physical boy loving makes King of Debt an exceptional read for yaoi fans.
A-
Last Updated: Jun 26, 2018 - 9:28