Kimi Ni Todoke: Volume 27 manga review
By Leroy Douresseaux
January 17, 2018 - 11:13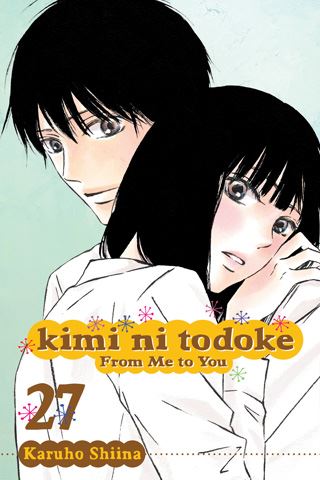 Kimi Ni Todoke Volume 27 Graphic Novel cover image
Rated "T" for "Teen"
Sawako Kuronuma
has jet black hair, a gloomy attitude, and a sinister smile. This combination makes her scary … or so her high school classmates think. They call her "Sadako," after the haunting horror movie character. Sadako...err... Sawako is actually a sweet person.
Shota Kazehaya
, the most popular boy in school, starts talking to Sawako and her life changes. Now, they are a couple, getting closer all the time.
As
Kimi Ni Todoke: From Me to You

, Vol. 27
(Chapters 108 to 111) opens, Sawako and Kazehaya are working on their post-high school futures. Kazehaya has already said that he will support Sawako's decision, even if she enrolls in a university that moves her to another city. Meanwhile, Kazehaya cannot come to an agreement with his father about his own future, and his mother's medical situation complicates matters. Now, it is Sawako's turn to be supportive.
THE LOWDOWN:
The Kimi Ni Todoke manga is at that point in the series in which every volume seems pivotal. Sawako and Kazehaya's romance is still sparkly and fresh, but there are complications regarding the future.
Kimi Ni Todoke Graphic Novel Volume 27
gets a little edgy with its depiction of Kazehaya family issues, revving up the drama. With the end of high school just months away, the cast deals with their futures, and one of Sawako's friends struggles with revealing to a favorite teacher than she has romantics feelings for him. Series creator
Karuho Shiina
continues to make Kimi Ni Todoke a must-read high school romance, one that has moved beyond its original, simplistic conceit.
I READS YOU RECOMMENDS:
Readers looking for the best in high school shojo romance will like the Shojo Beat title,
Kimi Ni Todoke: From Me to You
.
A
8 out of 10
Rating: 8 /10
Last Updated: August 31, 2023 - 08:12