Kimi Ni Todoke: Volume 24 manga review
By Leroy Douresseaux
April 27, 2016 - 21:58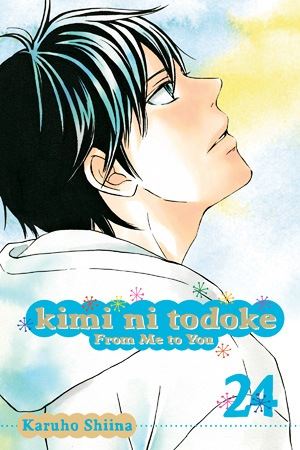 Kimi Ni Todoke Volume 24 cover image
Rated "T" for "Teen"
People notice that
Sawako Kuronuma
has jet black hair, a gloomy attitude, and a sinister smile. This combination that makes her scary … or so her high school classmates think. They call her "
Sadako
," after the haunting horror movie character. Sadako...err... Sawako is actually a sweet person.
Shota Kazehaya
, the most popular boy in school, starts talking to Sawako and her life changes. Now, they are a couple, getting closer all the time.
As
Kimi Ni Todoke: From Me to You

, Vol. 24
(Chapters 96 to 99) opens,
Ayane Yano
, one of Sawako's girlfriends, and
Kento Miura
, her boyfriend (ex-boyfriend), settle into the post-relationship relationship. Meanwhile,
Chizuru Yoshida
, another of Sawako's girlfriends, and
Ryu Sanada
, her maybe-boyfriend, develop a relationship.
It is time for the
44th Kitahoro High School Festival
, the last for Kuronuma and Kazehaya and their friends. It is also one year since our favorite couple declared their love, so Sawako wants to make the festival the best one ever. The problem is that both she and Kazehaya may work themselves too hard to enjoy the festivities.
THE LOWDOWN:
I can say this every volume: the
Kimi Ni Todoke
manga still makes the romance of Sawako and Kazehaya seem sparkly and fresh. After some initial trepidation, I have come to love this manga and this couple.
Kimi Ni Todoke Volume 24
shows the couple growing even closer. However, creator
Karuho Shiina
is not above throwing in some complications; after all, this is a high school shojo romantic drama, not a rom-com. No problem; people who love this manga do not need another plot twist to love it, but we can still love the make-up.
POSSIBLE AUDIENCE:
Readers looking for the best in high school shojo romance will like the Shojo Beat title,
Kimi Ni Todoke: From Me to You
.
A
Rating: A /10
Last Updated: August 31, 2023 - 08:12