Kimi Ni Todoke: Volume 23
By Leroy Douresseaux
January 24, 2016 - 20:16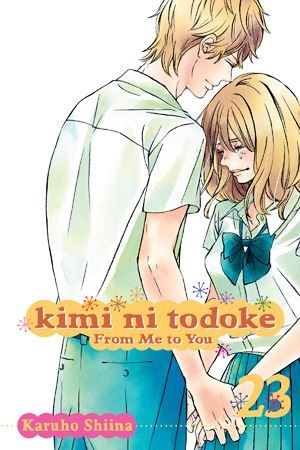 Kimi Ni Todoke Volume 23 cover image
Rated "T" for "Teen"
Yes,
Sawako Kuronuma
has jet black hair, a gloomy attitude, and a sinister smile. This combination that makes her scary … or so her high school classmates think. They call her "Sadako," after the haunting horror movie character. However, Sadako...err... Sawako is actually a sweet person.
Shota Kazehaya
, the most popular boy in school, starts talking to Sawako and her life changes. Now, they are a couple, getting closer all the time.
As
Kimi Ni Todoke: From Me to You

, Vol. 23
(Chapters 92 to 95) opens,
Ayane Yano
, one of Sawako's girlfriends, is thinking hard about her post-high school future. She is considering applying to enter
J University
in
Tokyo
, but that will separate her from her boyfriend,
Kento Miura
, one of Kazyhaya' pals. When they meet to talk about the future, tensions arise. Will Ayane take the easy way out, or will she decide, for the first time, to follow her dreams?
THE LOWDOWN:
The
Kimi Ni Todoke
manga still makes the romance of Sawako and Kazehaya seem sparkly and fresh. However,
Kimi Ni Todoke Volume 23
shows what strong supporting characters
Karuho Shiina
has created. This series is so well done that any of the story's other romantic pairs could take the spotlight, and
Kimi Ni Todoke
would remain a top-notch high school shojo romance. And that is just what happens this time. Encore!
POSSIBLE AUDIENCE:
Readers looking for high school shojo romance will like the Shojo Beat title,
Kimi Ni Todoke: From Me to You
.
Last Updated: January 24, 2022 - 11:00