Kimi Ni Todoke: Volume 21 manga review
By Leroy Douresseaux
May 25, 2015 - 11:58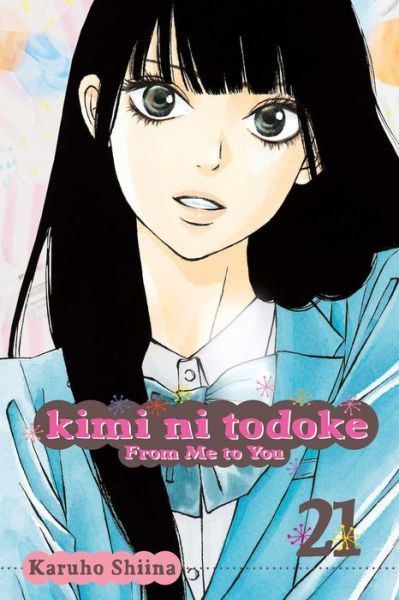 Kimi Ni Todoke Volume 21 cover image is courtesy of barnesandnoble.com.
Follow me on
Twitter
.
Rated "T" for "Teen"
Sawako Kuronuma
has jet black hair, a gloomy attitude, and a sinister smile – a combination that makes her scary … or so her high school classmates think. They call her "
Sadako
," after the haunting horror movie character. However, Sadako...err... Sawako is actually a sweet person.
Shota Kazehaya
, the most popular boy in school, starts talking to Sawako and her life changes. Now, they are a couple, getting closer all the time.
As
Kimi Ni Todoke: From Me to You

, Vol. 21
(Chapters 84 to 87) opens, spring is in the air, and so is worry. Sawako and Kazehaya and their friends enter their third and final year of high school. It's time to start thinking about their post-high school life.
Chizu Yoshida
wonders what will happen to her relationship with
Ryu Sanada
. Ryu wants to play college baseball, which will take him to a college that Chizu had not planned on attending.
Meanwhile,
Kento Miura
sets his sights on a post-high school relationship with Ayane Yano, although she is confused about what she wishes to do. Sawako and Kazehaya had planned on staying in their hometown of
Kitaboro
, but now
"D" University
might come between them. Also, it's "
White Day
," the day girls give gifts to the boys who gave them chocolates on Valentine's Day.
THE LOWDOWN:
After 87 chapters, the
Kimi Ni Todoke
manga still makes the romance of Sawako and Kazehaya seem sparkly. I honestly never thought that I would enjoy this shojo manga as much as I do. I look forward to each new volume.
Kimi Ni Todoke Volume 21
is kind of melancholy. Our young heroes must look beyond their high school years, and some must decide if puppy love is really real love. For an added measure of tension, a new potential glitch seems to be headed Sawako and Kazehaya's way. I must admit this: I can't wait for the next volume; I love you,
Kimi Ni Todoke
!
POSSIBLE AUDIENCE:
Readers looking for high school shojo romance will like the Shojo Beat title,
Kimi Ni Todoke: From Me to You
.
Rating: A /10
Last Updated: August 31, 2023 - 08:12